2022, a year of politics, war and more
After a year filled with vaccines, political controversies, celebrity deaths, rising gas prices, new governors and more, 2021 became a year that endured the ricocheting effects of 2020. Now, two years later, since the start of the pandemic, 2022 has become a year finally clear of the 2020 wrath and the world-wide pandemic. However, despite the light at the end of the tunnel, 2022 proved to be a war in it's self, and in case you missed it, here's a recap of the year of hopes and heartbreaks.
January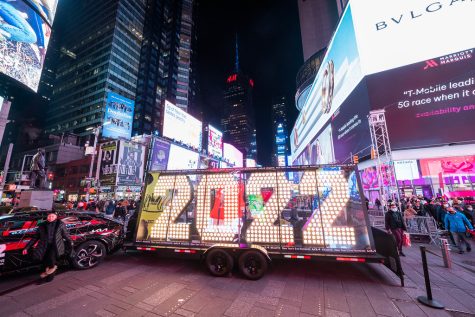 As the ball dropped from Time Square in New York City, marking the official start to 2022, crowds of masked attendees cheered and clapped for the arrival of the new year. At the time, threats of COVID-19 seemed to nearly vanish after the release of an effective vaccine that was made available to the masses. However, simultaneously, a sudden spike of COVID-19's new variant Omicron began to surge throughout schools, workplaces and hospitals.In the first week of January alone, Chesterfield County reported that nearly 1,200 students tested positive for COVID-19.
A week later on Jan. 15, after receiving backlash and mixed-feelings, Republican Glenn Youngkin took office as Virginia's new state Governor, transforming Virginia into a red state for the first time since 2010.
One of Youngkin's first call-to-orders in office was to remove the mask mandate put into place by former Governor, Ralph Northam. After a heated debate from the Chesterfield County Public School Board and passionate parents, the mandate officially dissipated, and masks became optional for all students on Jan. 25.
February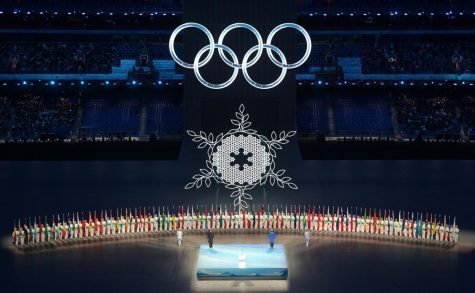 Skating into February, the 2022 Winter Olympics commenced in Beijing, China on Feb. 4 with scattered crowds skeptical of the ongoing virus. With growing fears of COVID-19, many chose to watch the games from home, while others decided to boycott in general due to unsafe conditions for players, resulting in one of the lowest viewed Olympics in history.
More into sports, Tom Brady, NFL superstar "retired" at the age of 44 after nearly 22 years of football, making him one of the oldest players in the National Football League. Many questioned if Brady was actually going to retire, or if it was just a publicity stunt.
At the 56th annual Superbowl, hosted in Los Angeles by the Los Angeles Rams playing against the Cincinnati Bengals, a score of 23-20 resulted in the Rams taking home the Vince Lombardi Trophy for the second time. A magical half-time show was presented by rapping legends Dr. Dre, Snoop Dogg, Mary J. Blige, Kendrick Lamar, Eminem and 50 Cent, who each performed hit rap songs of their times.
Towards the end of February, change was upon the world. In local public schools, masks became optional for all teachers and staff, creating an unnecessary tension throughout the student body. Schools became divided amongst students judging one another on their opinions on whether or not they were going to wear a mask.
On a worldwide scale, news began to escalate much quicker. Ukraine, an Eastern European country south of Belarus, was officially under fire from Russian President, Vladimir Putin, who claimed the Ukrainian territory as Russia. Putin believed the land historically belonged to Russia, and began sending in armed troops to oversee and overthrow the country and it's current president Volodymyr Zelenskyy. Thus begun, a controversial war that would last well into the new year.
March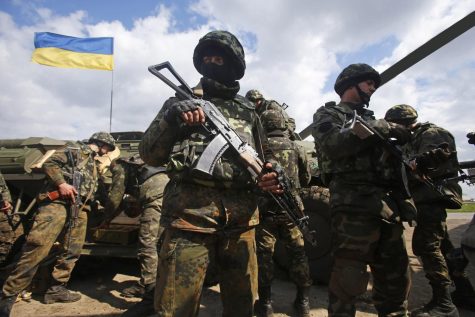 Across the world, attention turns towards Ukraine and the effects of the war. Across several news broadcasters, the rest of the world watches as Ukraine is destroyed from incoming missiles sent from Russia. Many of Ukraine's citizens fled from the citizens and have taken refugee underground in old metro stations and tunnels. Others attempted escape into neighboring countries such as Poland, Slovakia, and other European countries. 
In the United States, American citizens battle the war of inflation, as gas prices surge to record highs each day. Across the West coast, prices ranged from $3.99 in Nevada, $3.91 in Washington, and even a record setting $6.13 in California for regular-grade diesel. According to the US Inflation Calculator, the inflation rate for March 2022 climbed to nearly 8.5 percent.
For Americans struggling to pay for basic necessities due to the high inflation rates, many resorted to a popular, mind-puzzling game, known as Wordle. The phenomenon officially launched in 2013 by two college students and grew in craze mid March as word of the exclusive game spread. Students, teaches, and parents could be caught playing the addictive game, whispering to their friends and family the secret word of the day.
To close out of March, two controversial moments sweeped the internet. One, on the night of the 94th Academy Awards, The Oscars, when Will Smith, awarded Best Actor of the Year award, slapped Oscars' Host Chris Rock across the face after Smith took offense to a "G.I. Jane Joke" made in reference to his wife who was battling alopecia. The other controversial topic that spurred a black hole around the internet was the topic of Lia Thomas, a transgender man who won the women's NCAA Division 1 Swimming Championship. Controversy began after other swimmers in the  women's meet came forward to express their disagreement, stating that it was unfair for a man to win in the women's race.
April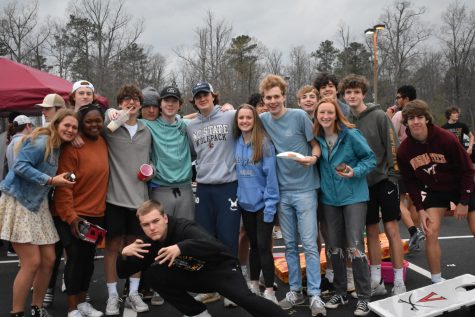 In April, Midlo students made history. On an early Thursday morning before school, students flocked to the parking lot to watch what would be known as the Breakfast Tailgate. Seniors at the school cooked cinnamon rolls, bacon and other breakfast treats for the crowds of rambunctious students. That same day, students participated in a once in a lifetime Anything But a Backpack Day. They ditched their backpacks and found alternative-carriers such as shopping carts, strollers, kayaks, coolers, and even a younger sibling. The day erupted in chaos and left every student reminiscing on the jaw-dropping day. According to Principal Dr. Abel, it was a one and done deal.
On Apr. 14, billionaire Elon Musk laid his claim on internet platform, Twitter, after paying nearly $44 billion to former co-founder Jack Dorsey. After the ordeal occurred, Musk began to unblock several celebrities who had been removed from the platform. Likewise, many decided to remove themselves from the social media after hearing the news of the new owner.
Towards the end of April, the United States Supreme Court made history as Kentaji Brown Jackson was confirmed to the court as the first black woman justice since it's creation nearly 233 years ago.
In the end of April, Dr. Faucci came into the spotlight to officially announce that the pandemic was over. Masks officially became a thing of the past, and the thought of COVID-19 became insignificant.
May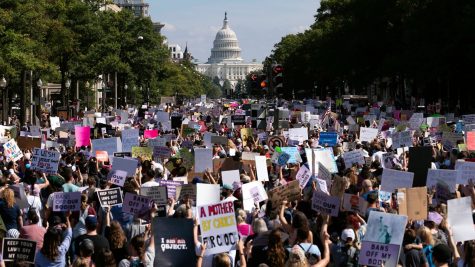 Going into May, controversy arose after a drafted decision to overturn Roe V. Wade, which discussed the rights to an abortion, was leaked from the desk of the Supreme Court. Controversy, which would last well into the new year, spread to the public and became the hot-gossip. The case would later be overturned by the supreme court in June, sending the American people into a divided debate.
Mid-May, Midlo seniors graduated at the first semi-normal graduation since the start of COVID-19. Held at the Siegel Center downtown on May 23, nearly 443 seniors threw their caps in the air and celebrated the end of an era and welcomed the next chapter in their lives.
The following day on May 24, Robb Elementary School in Uvalde, Texas made headlines after a school shooter killed 19 students and two teachers. Americans were in shock after the painful incident, and Texas gathered as one to honor the innocent lives lost.
In the end of May, gas prices continued to climb, and supply chain delays became a serious problem for major-suppliers and retailers. Several items across the states begin to sell out-of-stock, causing a mere panic for new mothers trying to buy baby formula.
June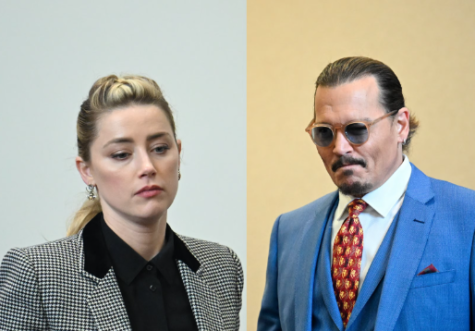 What had started Mid-April as an average court case, known as the Amber Heard/Johnny Depp case had escalated long into June, and had captivated viewers with every side comment made from each party. Heard, who was formerly married to Depp, came forward with accusations of harassment, that resulted in a several month-long case. On June 1, the trial officially concluded in favor of Depp, where he was awarded $15 million in damages.
In other legalities, the official decision to overturn Roe V. Wade became official, stating that it was now an individual state's decision. Closing out June, inflation peaked the highest in history at nearly 9.1%, a record high since the 1980s. On June 30, Kentaji Brown Jackson was officially sworn into the U.S. Supreme Court.
July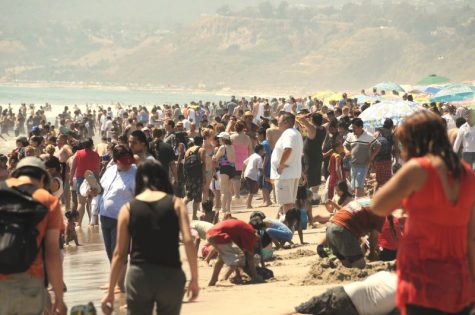 In July, as the world shifted gears into summer, winter clothes were stored away and flip flops, crop tops, and bathings suits made their debut as the United States endured a massive heat index crisis. Across the states, and around the world the heat index reached an all time high, with parts of South reaching into the 100s.
However, as the temperatures continued to rise, one thing that finally started to falter were the nation-wide gas prices. Unfortunately, just as there was a slimmer of hope, it was taken back when President Joe Biden tested positive for COVID-19 on July 21. His symptoms were minimal, and eventually tested negative the following days. However, luck did not play in Biden's favor, and he ended up tested positive again the following week on July 30.
Towards the end of July, as the war in Ukraine continues to develop, Russia officially announced it will withdraw from the International Space Station. 
August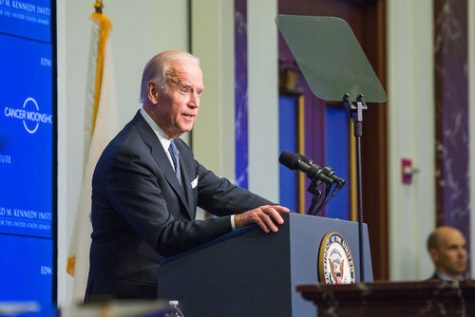 In celebrity news, Colombian singer songwriter, Shakira, is taken into custody in Spain after failing to pay nearly $14.5 million in taxes. She is at risk of facing nearly 8 years in custody.
A week later, on Aug. 8, worldwide-fandom, Olivia Newton John, passed away in her home at age 73 after loosing a long battle with breast cancer. Across the globe in Russia, former president of the Soviet Union, Mikhail Gorbachev, passed away at age 91.
In other, less tear-filled news, students made their way back to school for the first day of school. Students finally returned to the classroom in a maskless, COVID-19-free environment.
Speaking of school, on Aug. 24, President Joe Biden, announced his plan for a student loan debt forgiveness program. The plan sparked controversy from college students across the country and was eventually denied by courts.
September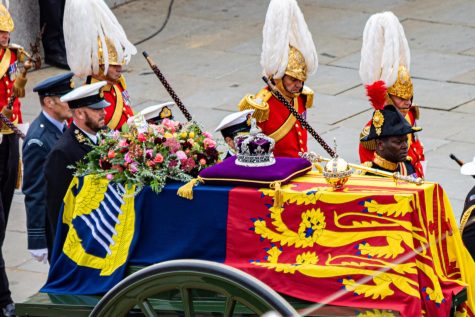 Breaking news struck the world on Sep. 8, after Great Britain wept the loss of Queen Elizabeth II, who passed away after 70 years of service at age 96. Televisions worldwide broadcasted the ceremonial funeral for the millions of viewers worldwide. In just the UK, nearly 28 million spectators watch from television a historical moment in the monarchy.
September proved to be a disheartening month for the world, as the tragedies continued on Sept. 26, when 18 students were killed and 23 were injured in a school shooting in Udmurtia, Russia amidst the Russia/Ukraine war.
Just a few days later, Hurricane Ian, a category 4 storm, swept across the southern part of the country, including Florida, leaving several with flooded roads and without power.
October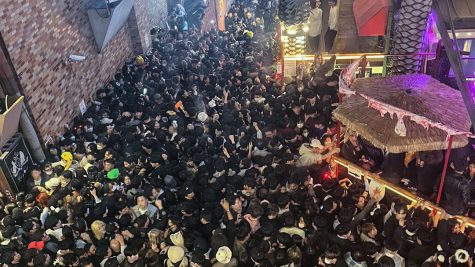 Into October, millionaire singer-songwriter and rapper, Kanye West, begins a streak of odd, out-of-pocket antisemitic remarks, which ultimately resulted in several major companies withdrawing from promotions and advertisements.
On social media, Elon Musk finally takes ownership of Twitter. Not long after owning the multi-million dollar platform, Musk immediately fired biased workers and unblocked hated celebrities.
On Oct. 28, US Speaker of House, Nancy Pelosi's husband, Paul Pelosi, was physically assaulted after a home intruder broke into the Pelosi home.
In other news, a new social media platform struck popularity across it's millions of users. Known as BeReal, a new take on social media that allows users to be their genuine selves by randomly announcing a mandatory selfie once a day.
Then, as Halloween neared, Americans took to the streets to celebrate the annual trick-or-treating traditions. However, across the globe in Korea, a Halloween street party turned deadly after hundreds of party-goers stampeded a narrow city alley-way, causing the death of over 150 lives. Many speculate that the crowds rushed towards a possible celebrity spotting.
November
In November, history was made in the form of a Powerball lottery ticket from the small town of Altadena, California, when a ticket sold from a Mobil Gas station turned out to be a winner worth $2.04 billion, the largest jackpot amount in Powerball history.
Then, news took a turn for the worse when three college students at University of Virginia passed away after a fatal school shooting. Students of the college mourned the loss of the three players of the UVA football team.
Across the nation in Moscow, Idaho, four students at the University of Idaho were brutality murdered in their home. A mind-boggling investigation went underway and left many wanna-be crime solvers dumbfounded about the seemingly unsolvable case.
Then, across the globe amidst the Ukraine/Russia development, a missile sent from Russia turned off-course and exploded on the edge of Poland, making viewers question the probability of more conflict.
Then, in politics, former President Donald Trump renounced his re-election for the upcoming 2024 election. At the same time, US Speaker of the House Nancy Pelosi officially stepped down from her position in government, making way for a heated race to fill the empty seat. Then, to top it all off, Joe Biden officially turned 80, making him the oldest president in US history.
In the end of November, the World Cup 2022 officially commenced from the capital city of Doha, Qatar. After 29 days of nearly 64 back-to-back soccer matches, the final match ended with Argentina vs. France. Ultimately, Argentina won with a score of 4-2.
December
To close out the year, December proved to be a windier winter than most. Not only was the weather below freezing across the northern hemisphere, but across social media, when Kanye West made his fans freeze and rethink yet again after multiple controversial comments made in adoration of former leader of Nazi Germany, Adolph Hitler.
In other news, Britney Griner, an American Professional Basketball player was released from a Russian prison after serving 10 months due drug charges. She was exchanged in a one-for-one prison swap with the United States and Russia for Viktor Bout, a Russian arms dealer known as the Merchant of Death.
For the final kicker, the World Cup officially came to end. Argentina fans celebrated the third victory for Argentina in World Cup history, and now await the next world cup 2026 to be held in trio among Canada, the United States, and Mexico.
In all, 2022 proved to be a hectic year of twists and turns, celebrity deaths, a never-ending war, political controversies, rising costs, and world conflict. What lies in store for 2023 is cannot say. All that is clear is that whatever effects 2020 ricocheted onto the world are finally starting to wear off.
Happy New Year! Let's make it a good one!
Leave a Comment
About the Contributor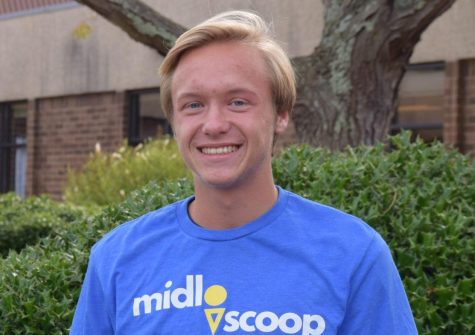 Kyle Reeder, Multi-Media Editor
Kyle Reeder, Class of 2023

Kyle Reeder has been on staff for four years and is the Multi-Media Editor. Outside of school, he runs cross country and...