Has Kanye lost it?
Kanye West banned from Twitter after expressing controversial opinions
Kanye West, an all American singer-songwriter with 21 Grammy awards, has been deemed one of the most influential hiphop artists of the 21st century. He is known for his notorious music style and extreme publicity stunts which has set him at nearly 18.4 million followers on Instagram. In 2018, West officially changed his name from Kanye to "Ye", stirring confusion amongst his wide base of followers. However, in recent times, fans of Kanye West have started rethinking the artist after a controversial interview revealing West's feelings towards former fascist leader of Germany, Adolf Hitler.
In his interview with right-winged radio show host Alex Jones, West stated "I like Hitler." he said, wearing a full-body black suit that covered his face. "I love Jewish people, but I also love Nazis," West said. The statement spread throughout social media like wildfire, creating controversy among his questioning fans.
"It was one mistake," Ben Singleton, 9, said. "I still love Kanye, and he should run for president." 
However, Kanye West didn't stop at just an interview. After the interview with West and Jones aired on Youtube, West began to egg on his fans by posting a picture of a German swastika merged with a Jewish Star of David. The post was removed from Twitter almost immediately by new owner of the social media network, Elon Musk. 
"I think he's better when he's on his meds," Woojin Jun, 10, said. "I think he's entitled to his own opinions, but also he should probably get more educated on his opinions before he speaks about them in public."
After his tweet was ultimately removed, West began to target Musk. He posted a picture of Musk standing on a yacht with the caption "Let's always remember this as my last tweet."
After that, Kanye West was officially banned from Twitter.
"I like how he attacks controversial opinions," Drew Mierchuck, 9, said.
"It's sad really," Chase Burton, 10, said. "I don't feel the same way when I listen to him now."
After West was kicked from the face of Twitter, he began to share his thoughts elsewhere on other social media platforms about his fondness love of Hitler, stating that he wanted to officially change his name to "Yitler."
"I'm trying to separate the artist from the art right now," Abigail Walsh, 12, said. "Because I guess now he's a Nazi.  So my opinions are he's a horrible person right now, but also, is it actually him, is it actually his thoughts, or is it just a publicity stunt?  Either way it's not okay."
"Horrible person, amazing music," Madison Garcia, 12, said.
"Kanye was my number one on Spotify Wrapped," Kayden Miranowicz, 10, said. "I think his music is very good, but his beliefs are kinda funny." 
In the end, Kanye West, an artist of many talents and certainly many opinions, continues to surprise his audience daily.
Leave a Comment
About the Contributor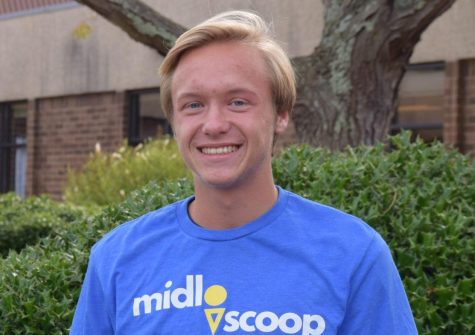 Kyle Reeder, Multi-Media Editor
Kyle Reeder, Class of 2023

Kyle Reeder has been on staff for four years and is the Multi-Media Editor. Outside of school, he runs cross country and...