Students sight-see at La Galería Naccional and dine on Spanish cuisine
Spanish classes visit the National Gallery of Art in Washington DC to visit the art of famous Spanish artists.
On the morning of Wednesday, March 22, around 96 students enrolled in Spanish language classes boarded a charter bus which took them to Washington D.C., where they toured the National Gallery of Art and snacked on Spain-oriented cuisine for lunch at Jaleo.
The field trip was organized by Spanish teacher,  Travis Spencer, who taught her students an intensive art unit comprised of several renowned artists. During the course of the year, students enrolled in Spanish 4 and above participate in Spencer's art curriculum, which takes students back in time to study the most notable artists in Spanish history. Artists such as Pablo Picasso, Salvador Dalí, Joan Miró, Fernando Botero, Frida Kahlo, and more historic artists such as Murillo, Velázquez, and El Greco. Students spend the unit studying the artistic details and stylistic choices used by the artists, along with the meaning behind several renowned works while also practicing the Spanish language.
The trip began at La Galería Naccional (The National Gallery), where students divided and conquered the museum to search for art from the renowned artists. Students spent three hours exploring exhibits of the multipled-floor museum, roaming to complete their scavenger hunt assignment. Students had to take selfies with famous art that they had previously learned about from Spencer's course.
Students were also accompanied by Amira Moncada, Linda Szwabowski, Laura Brady, and IB coordinator Stuart Jones. Time in the gallery was spent exploring art masterpieces and taking selfies alongside them. Many students shared that the art was much larger in person than they had originally thought.
After about three hours in the National Gallery, students flocked down the block to Jaleo, an authentic Spanish cuisine restaurant where students were able to experience a wide variety of flavors and spices. All 96 students occupied the entirety of the restaurant and were each served family-style. The several course meal began with three appetizers that included oranges wrapped in a lettuce-like wrap, a plate of tomato paste on toast and fried potatoes. A second course offered students a taste of sauteed spinach, chicken fritters, chorizo with potatoes and garlic shrimp. The main course, Paella, arrived with the ringing sounds of cowbells from the Jaleo kitchen and was delivered to each table of students. Paella is one of Spain's most acclaimed dishes and consists of a vegetarian rice combination. Dessert consisted of two dishes, one a caramel flan with a side of whipped cream, the other was vanilla ice cream with a side of pure dark chocolate. The nearly two hour lunch left many students stuffed with a taste pallet full of new flavors. Students re-boarded their charter buses and returned to Midlothian High School after a fun-filled day in the Nation's capital.
Leave a Comment
About the Contributor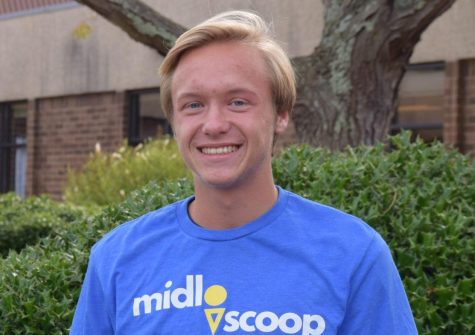 Kyle Reeder, Multi-Media Editor
Kyle Reeder, Class of 2023

Kyle Reeder has been on staff for four years and is the Multi-Media Editor. Outside of school, he runs cross country and...