Spontaneous breakfast tailgate cooks up a party
Student-run tailgate offers unique bonding experience for students
At 7:00 in the morning, senior Quinn McCarthy arrived at school. He set up his tents, turned on the gas, and began grilling.  The smell of well-done bacon, sausage and slightly burned pancakes filled the parking lot with the welcoming scent of breakfast.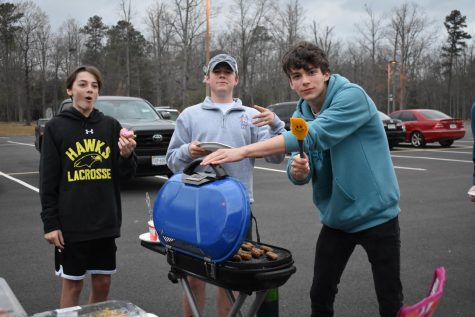 "It all started as a far-fetched conversation at the lunch table about how it would be funny to tailgate the powderpuff game," McCarthy said, explaining the spontaneous breakfast tailgate held at Midlo on Thursday, March 31.
McCarthy, and senior Brayden Stotler, originally had the idea a few days before the powder puff game, a Midlo tradition where the cheerleaders and football players switch roles.
The aromatic smell of breakfast must have awakened students Thursday morning because once the grills were on, people started showing up.  
"The best part was definitely the beginning when there were just a few of us grilling away while people were showing up," McCarthy said.  "Towards the end, there were probably around 100 people."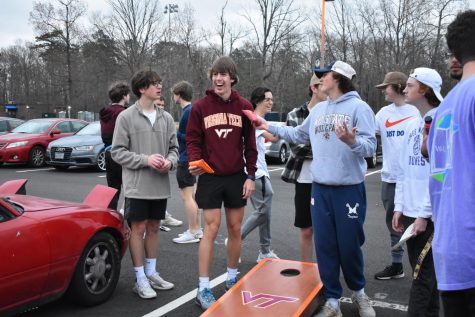 Thursday was also Anything but a Backpack Day at Midlo. Students arrived at the tailgate with shopping carts, tractor tires, electric scooters, and many other backpack alternatives.
During the tailgate, students lounged around, ate from the cornucopia of breakfast foods, and even played a few rounds of corn hole.  
"The tailgate was revolutionary to Midlothian High School traditions," junior Jacob Huffman said.
The tailgate lasted just about an hour and a half.  Students were able to help themselves to an assortment of donuts, homemade muffins, croissants, bagels, or whatever Chef McCarthy and his crew were cooking up.
"It was a great way to bond with everyone at our school," senior Tucker Meredith said. Thanks to the several students who volunteered to bring in items, the tailgate was a complete success. "There are so many people to thank," McCarthy said.
Seniors Kyle Altermatt, Brayden Stotler, and Wilson Andrake helped bring in the grills, which were a great help. Senior Ryan Hammelman used his truck to power the speakers which blasted music that students danced to. McCarthy also thanks the class Instagram page, @Midlo2022, and everyone else who helped bring in food, drinks, and games.
"It was a great way to bring everyone at Midlo together, and was a good memory for everyone," Hammelman said. Stotler added "We hope to start an annual event out of this."
Leave a Comment
About the Contributors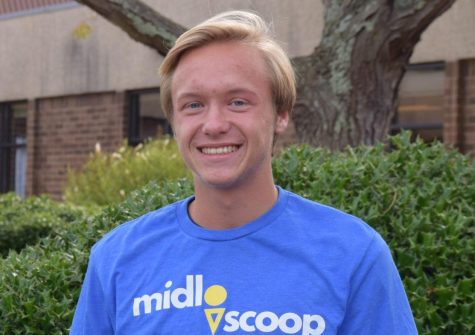 Kyle Reeder, Multi-Media Editor
Kyle Reeder, Class of 2023

Kyle Reeder has been on staff for four years and is the Multi-Media Editor. Outside of school, he runs cross country and...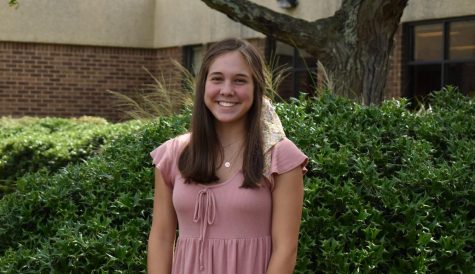 Lauren Cassano, Photo Editor
Lauren Cassano, Class of 2022

This year, senior Lauren Cassano is celebrating her fourth year on staff.  She is Midlo Scoop's designated photographer,...