Midlo dances the night away at a Starry Night Homecoming
After selling nearly 1400 tickets this year at homecoming 2022, Midlo students packed the gym floor, dressed head-to-toe in sparkling dresses and clean suits, and danced the night away to "a starry night" theme.
"It was fun, the music was good, there was a lot of variety, and they had a lot of nice decorations," Samara Ruano, 11, said.
When the clock neared 7:00 on the evening of Sept. 24, students arrived to school, which for one night of the year, had transformed into a wonderland of glittering stars, flashing lights, and dazzling outfits. On entry, an instant wave of heat, made up of out-of-breathe dance fanatics, mosh pits and pure-sweat, greeted dance-goers.
"It was so crowded and hot there," Molly Donohue, 11, said. "I thought it was funny when Dr. Abel was dancing in the mosh pits."
Put together by Midlo's SCA, the homecoming decorations resembled an "under the stars" theme.  Tables of small snacks and beverages were made available to any parched dancers.
"I moved from a smaller school in Pennsylvania, so it was really fun to go to a big homecoming like this one, " Reece Bisshcop, 12, said.
"It was kinda hot in there,"  Karim Saunders, 11, said. "It was fun because they played both types of music."
"It was fun, but they could have played better music," Alanis Betancorut, 11, said. "I enjoyed spending time with my friends."
This year, many students experienced the first real homecoming since COVID. "It wasn't what I expected," Bridget Gould, 11, said. "I had to take my shoes off at one point since my feet were hurting."
At the end of the night, students left a sweaty mess.  Shirts were unbuttoned, ties were tossed, hair was twisted and spirits were high.
Leave a Comment
About the Contributor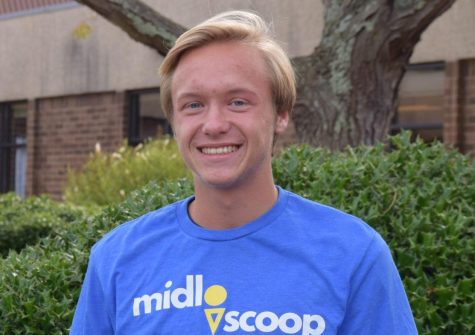 Kyle Reeder, Multi-Media Editor
Kyle Reeder, Class of 2023

Kyle Reeder has been on staff for four years and is the Multi-Media Editor. Outside of school, he runs cross country and...