Midlothian High School reunites for the First Day of School
Return to In-Person Learning for the 2021-2022 School Year
Since mid-2020, students have been behind computer screens, logged into Google Meets, and away from their friends.  Last March, some students returned to the building for in-person instruction, while others remained virtual.  Those who stayed virtual have now gone almost a year and a half without walking the halls of Midlothian High School.  However, Tuesday, August 26, marked one for the books, as the entire student body reunited for their first day of school, this time, all in person. 
Just around 8 a.m., students stepped out of buses, cars or bikes, and made their way into the school.  Those who entered through the bus loop entrance walked the blue carpet and were greeted by pounding drums and whistling flutes played by Midlothian High School's marching band.  The first day of school was officially underway.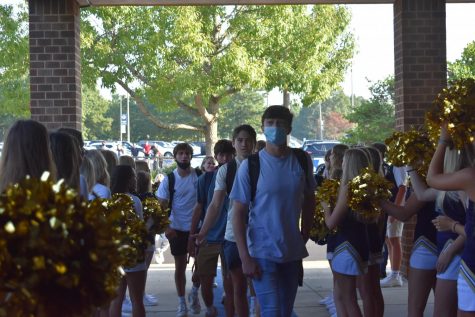 As students adjusted into their homeroom classes, many were shocked at the number of students who were in their classes. "When I walked into my class, I was actually so shocked at the number of students that were there,"  junior Reina Okeilli said.  "My first day of school was very exciting and I loved getting to see all my friends.  It was great to see everyone back in the building again," Okeilli said.
Junior Jeniya Griffin's day was great, but she was also shocked at the number of students.  "It was pretty good, in a chaotic sort of way, because we've had more people than we've ever had, and it's been hard with one-way hallways.  Sometimes people don't really move.  There's a lot of people here that I haven't even seen before, and I don't even know which of my friends still go here," Griffin said.  It took junior Zachary Bond some time to reorient himself because "the first day was a bit confusing and unorganized.  I wasn't used to being around a lot of people, but it was great to finally see my friends again," Bond said.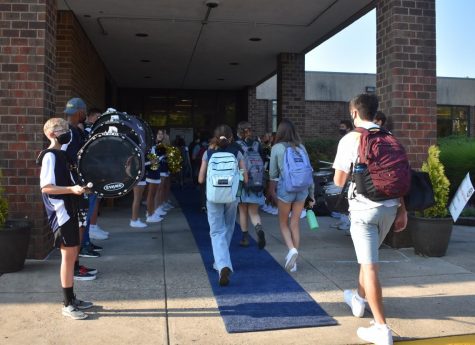 The school day ran on a delayed schedule, as students reported to homeroom for their virtual welcome assembly, given by Principal Dr. Shawn Abel.  In any normal year, students would meet in the auditorium for a welcome presentation.  However, due to COVID, Dr. Abel decided to make the assembly virtual.  He discussed all of the new protocols put in place, such as masks, one-way hallways and lunch seating.  The day continued with students going through their even day classes.
 "For me personally, it was amazing, absolutely amazing.  It was shocking to see how much everyone had grown.  It was great to see my friends again.  We were all screaming in the hallways when we saw each other.  The welcome was really nice too, with the cheerleaders and their poms poms," sophomore Nora Eltuhami said. New to the school, freshman Ian Mckeever said that "The school is pretty small, but I like it.  I can get around easily.  There were also a lot of big kids." 
When lunch hit, chatter filled the cafeteria as students reunited with their friends whom they hadn't seen in a year.  This year, students are expected to fill out a digital form indicating where they sat at lunch, in case contact tracing is necessary. 
As the day came to an end, students said their farewells and exited out of the crazily packed student parking lot.  So, with only 180 days left until summer break, students are beginning to break out their textbooks, and begin their 2021-2022 school year.
Welcome back to the classroom, Midlo!  We've missed you!
Leave a Comment
About the Contributors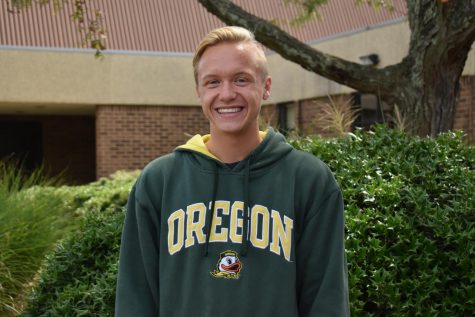 Kyle Reeder, Multi-Media Editor
Kyle Reeder, Class of 2023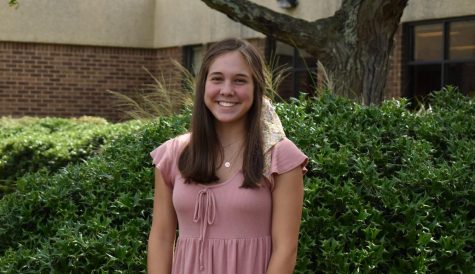 Lauren Cassano, Photo Editor
Lauren Cassano, Class of 2022

This year, senior Lauren Cassano is celebrating her fourth year on staff.  She is Midlo Scoop's designated photographer,...