River Jam Raises Mental Health Awareness
River Jam Supports CKG Foundation
River Jam, an annual, local event, took place from 1:00 pm to 4:00 pm on Saturday, March 23, 2019 to benefit the Cameron K. Gallagher (CKG) Foundation. Gallagher's family created the CKG Foundation to raise awareness for teens with depression and anxiety, in hopes of positively shifting society's current mindset regarding mental illness.
The CKG Foundation strives to empower young people to Speak Up about their hardships and to provide support for teens who struggle with mental illnesses. According to the statistics from the CKG Foundation, 2.8 million teens suffer with anxiety and depression; that's one out of every five teens, yet less than 33% of these affected teens receive help. River Jam set a goal to raise awareness for this organization by inviting local bands, singers, and speakers, along with food trucks and field games to James River High School, to bring mental health awareness to Chesterfield County Public Schools. Tickets for the event cost $5 for students and $7 for parents, and River Jam donated 100% of the proceeds to the CKG Foundation.
Spread across the James River High School field and track, River Jam provided field games, such as parachutes, Connect Four, Jenga, football, soccer, bouncy balls, Frisbee, Twister, and bouncy houses. The games and activities welcomed all ages. The games, available from 1-4 pm, allowed participants to play games throughout each of the performances.
River Jam opened with a performance by School of Rock. Following this performance, George Dennehy took the stage and covered Iris by the Goo Goo Dolls. After a beautiful execution of the song, Dennehy told the audience the story of his life. Dennehy was born in Romania, and his birth parents placed him into an orphanage because he was born without arms. Dennehy struggled with his health immensely as a child, due to the neglect he faced in the orphanage. After his parents adopted him and brought him to the United States, life became a bit easier, but as he grew up and began interacting with others, he realized his differences set him apart from the rest of the world. "All I wanted was to fit in," Dennehy revealed. He shared with the crowd his heartbreaking encounters with bullies, as well as the internal struggles he faced with himself. To turn the page, he shared how music helped him grow, as he achieved particular goals, such as playing the cello, then moved on to play guitar, electric bass, and piano. Dennehy explained, "I found myself in music," and encouraged others to find their niche. His demonstration was unique and heartwarming, and stood out for the CKG Foundation's goal of spreading positive awareness.
After Dennehy warmed the hearts of spectators, 5 Second Rule took the stage to deliver the performance of a lifetime. The band plays at River Jam annually, and they have gained an immense following since the beginning of their career. Lead singer Ryan Fischer commented on the importance of the event, sharing, "We love giving back to the community, and mental health awareness is a really big deal to us." Fischer endeavors to be an ambassador for the Cameron K. Gallagher Foundation. The band's exceedingly contagious spirit, delivered with the performance of their popular single, Yellow Dress, brought audience members to their feet.
Following 5 Second Rule's energetic performance, School of Rock wrapped up the show with a final musical demonstration. Cameron's mother Grace Gallagher spoke to the audience about the importance of speaking up when suffering with mental illness. She emphasized the significance of the CKG Foundation in reducing the number of teens with untreated mental illnesses. For more information about recognizing mental illness, or how to support mental health awareness, visit ckgfoundation.org.
About the Contributor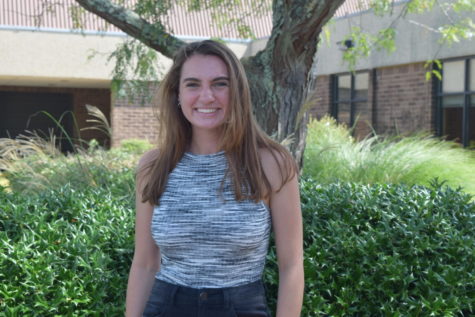 Carrie Rowley, Midlo Scoop Staff