Junior Ashley Jennings prepares for a year abroad
Spotlight on: Ashley Jennings
For the 2021-2022 school year, junior Ashley Jennings will embark on an overseas adventure after being selected to participate in the Congress-Bundestag Youth Exchange (CBYX) program funded by the United States and German Congress that sponsors youth ambassadors going to each country. 
When beginning her journey in August, Jennings will have the opportunity to meet her 149 fellow ambassadors along with the Congressional sponsor in Washington, D.C. Once she arrives in Germany, she will then be introduced to her host family, spending two to three weeks in an immersive German camp. While living abroad, Jennings will get to explore parts of the country with her host family and attend a German high school, while also getting to know the other youth ambassadors who are apart of the CBYX program, all of which is free in order to ensure people from different backgrounds all have an equal chance to participate in the unique experience.
Many components of the study abroad program inspired Jennings to take such a leap into a new environment. Jana Hilger, a German CBYX student ambassador from the 2019-2020 school year, met Jennings through German Club and influenced the outgoing student to apply by telling her insightful anecdotes from her own trip. Then, Jennings' employer at Tavern 19, a local restaurant, encouraged her to take part in the opportunity as she assured her that she would be able to connect well with people anywhere. Also, Jennings own personality traits played a key part in pushing her to accept the role as an ambassador since she loves to meet new people and foster strong relationships within her community. 
Aside from refining her German skills, Jennings must first complete the task of graduating early prior to her trip to Germany. Given her early departure from Midlo, she will miss out on important events of her senior year, forcing her to abandon all of the plans she had set in place and schedule to take three online summer courses. Additionally, Jennings will independently study German using online programs such as Rosetta Stone to ensure that she is able to effectively communicate with those around her and make the most out of her trip. However, given the fact that she wants to further her educational career when she returns, Jennings must also add to her summer plans beginning her college application process and finish while she is in Germany.
Throughout her time at Midlo, Jennings has been a vital pillar to the community. She has served as an active participant in SCA since her freshman year as the Community Service Chair where she plans outreach projects, assists administration in planning for events, works to get students involved virtually and contributes to the creation of announcement videos every Monday. Although her duties do not end there as she has also taken on a number of other important roles within the school community. Jennings has played the clarinet in the school's marching band for three years, acted as German Club President where she plans fun events focusing on the German culture and fulfilled the job as Social Media Chair for Champions Together, which is a club that integrates special education students through sports.
To learn more about Jennings' take on studying abroad, listen to the Trojan Talks podcast here. 
Leave a Comment
About the Contributor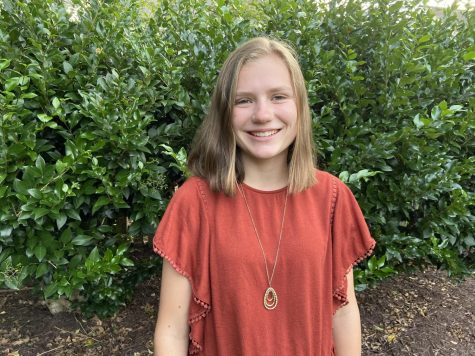 Nicole Quiram, Midlo Scoop Staff
Nicole Quiram, Class of 2022

Senior Nicole Quiram has been on Midlo Scoop's staff for two years now.  Although she isn't in the class, Quiram freelance...