Midlo awards Adamik and Agegne as Students of the Year
2022 Students of the Year: Liza Adamik and Beth Agegne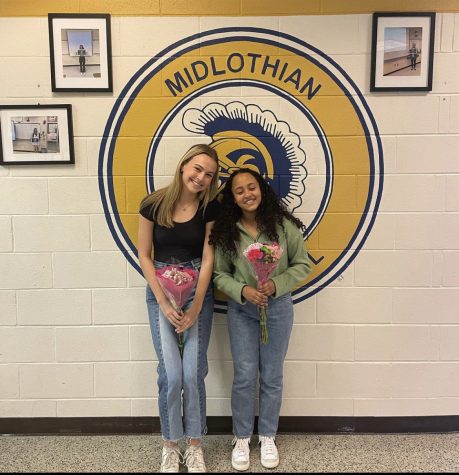 During each school year, Midlo administrators and teachers recognize two students who have gone above and beyond in the community. This year, sophomore Beth Agegne and senior Eliza Adamik have stood out for their hard work and dedication earning them the 2022 Students of the Year Award. 
Agegne is known for her consistent growth mindset, which she displays both within and outside of the learning environment. In the classroom, she actively collaborates with others and eagerly participates in class discussions, all while excelling academically. Agegne is admired by both teachers and students alike as one of her teachers has come to know her as "one of the most dedicated students [I] have ever met."
In addition to her academic success, she never fails to display a caring and kind demeanor as she is constantly looking to support her peers in any way she can. She has founded a free tutoring service targeted at helping children from the ages of five to fourteen, called Brain Gym. Additionally, she works with the For Ethiopian Children Fundraiser and plans to visit Ethiopia this summer to help elementary school students who have been displaced from the war between Ethiopia and Eritrea. With the support of the Midlo community, Agegne has raised a total of $2,780 for her fundraiser and will be holding an in-person fundraising event on May 7, 2022, from 2 to 6 P.M. at Midlothian High School.
Agegne feels honored by the esteem recognition and is "thankful to have been chosen out of the selection of great students here at Midlo."
Senior Class President Eliza Adamik has been recognized for her outstanding leadership skills and endless enthusiasm, leaving an impact on the Midlo community that will be felt for years to come. Adamik currently serves as one of the Girl's Varsity Soccer Team Captains in addition to her position on the Student Council where she has been a member since her freshman year. Even during virtual learning, Adamik continued to spearhead various service projects, such as improving the morning announcements by creating videos and conducting a cookie packaging operation to gift to teachers during the holidays. Not to mention, Adamik is a mentor for Midlo's SUCCESS program as well.
Because of her dedication to the Midlo community, Adamik is praised by both students and teachers alike. "Liza is kind, charismatic, and humble — all qualities that I think make her an exceptional leader. Her positive attitude has a snowball effect on others and helps to cultivate a strong community," English teacher Ms. Elizabeth Boese said.
Adamik is "extremely grateful and honored" to be chosen as one of the Students of the Year and found herself "so excited and really surprised to receive the award, but it's nice to know that [her] hard work through the school pays off!"
Congratulations, Beth and Eliza! 
Leave a Comment