English Department welcomes new teachers
New Teacher Spotlight: English
As the 2022-23 school year began, six teachers joined the English department: Ms. Joynson, Ms. Wasnock, Mr. Heyden, Ms. Zaal, Ms. Feldmann, and Mr. Hadley.
Melissa Joynson graduated from Radford University with a liberal arts degree and then got her Masters in Secondary Education and K-12 Library Services. At first, she wanted to teach kindergarten, but quickly realized "little kids are cute, but were definitely not my passion." She then decided high school was her ideal age to work with. 
In her free time, she loves spending time reading, baking and cooking with her husband and two daughters. Joynson enjoys watching anything from the Marvel Cinematic Universe (MCU). She loves the female empowerment that the MCU has created with the character development of Wanda, Nat, Shuri, and so many more. Every year, she re-reads the whole Harry Potter series.
Dana Wasnock always loved school and knew she wanted to be a teacher. In high school, Wasnock worked at a library and realized how exciting "the opportunity to share my love of reading and writing was." 
After graduating from SUNY Oswego with a teaching degree and then got her masters from Virginia Commonwealth University in English Literature. She grew up in Long Island, New York, and enjoys road trips back there and hanging out with friends and family. Her dream vacation is in York, Maine, right on the water with her extended family and friends. 
Wasnock has been teaching for 25 years. She has always loved school and knew she wanted to be a teacher since she was little. She loves reading and is always excited for the opportunity to share her love of reading with students.
Owain Heyden graduated from Oberlin College with a bachelor in English and then got his masters in secondary education at Vanderbilt University. He's terrified of tick-borne illnesses, but he loves to go hiking and camping. Some of his favorite things include In-N-Out Burger and board games. 
Heyden became a teacher because his high school English teacher got him hooked on reading and writing. He then went on to study American Literature in college and was an interpretive park ranger throughout many national parks. 
"I love storytelling, place-based learning, and encouraging people to follow their curiosity," Hayden said which led him to teaching. 
Alayna Zaal was born in Maryland and moved to Virginia shortly after. She grew up in Fredericksburg before graduating from James Madison University where she earned her bachelors in English. A year later, Zaal earned her Masters of Arts in Teaching. She loves to drink coffee which led her to add a coffee cart to her classroom.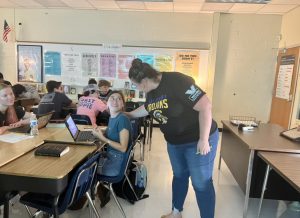 Amanda Feldmann graduated from JMU with her husband, Matt, who is also a high school English teacher. Together, they live with their two kids, Charlie and Matilda, along with their dogs, Roscoe and Russell. Feldmann was born in Maryland and then moved to Savannah, Georgia for 16 years, where she taught for 13. She loves to read anything by David Sedaris. 
In her freetime, she loves cooking, hanging out with loved ones and refinishing furniture. Her ideal vacation is a beach with no children and a drink with a little umbrella. "Emphasis on the no children part," Feldmann said. 
Something no one would guess about her is how funny she is. "What song did the severed head sing as he rolled down the street? I Ain't Got Nobody by Spencer Williams" Feldmann said as her favorite joke. 
Micah Hadley is the English-Language Learning (ELL) and SUCCESS teacher. Hadley said "it's been an interesting journey of working with people from 9-80 years old." He's worked in many different places such as Cochabamba, Bolivia with a youth-led equine therapy program and in Tucson Arizona as a Program Manager as a nonprofit. 
Outside of school, he's a musician. He released an album and is part of a band. He also loves learning about "plants and fungi and animals, reading, writing poetry, and traveling as ethically as possible" he said. 
His dream vacation has lots of live music, and being immersed in a language for multiple months. It would also have lots of friends with him and spending quality time with them.
Leave a Comment
About the Contributors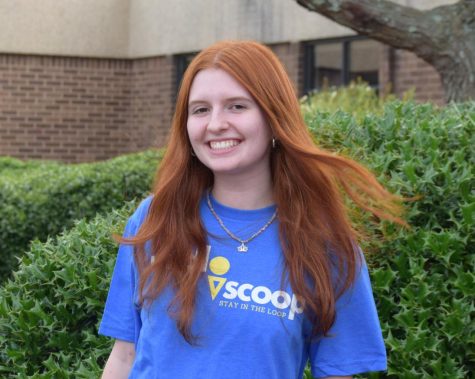 Quinn Downing, Editor-in-Chief
Quinn Downing, Class of 2023

Quinn Downing has been on staff for four years and is Editor-in-Chief. Outside of school, she loves traveling, reading...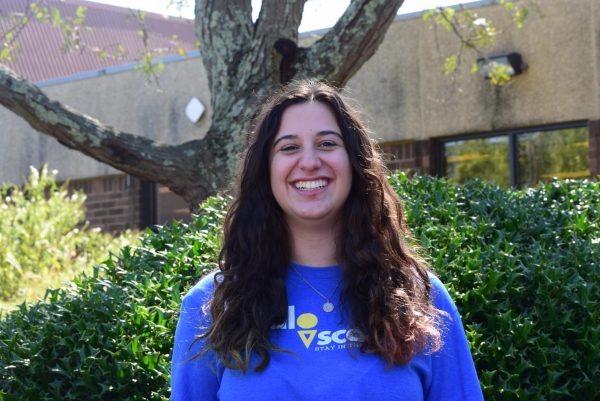 Meghan Davis, Podcast Editor
Class of 2025

Meghan Davis has been on staff for two years. Outside of school, she enjoys traveling with her family and friends, reading, and going...