Midlo's Spanish Students Take a Day to Visit UVA
Midlo AP and IB Spanish Field Trip
On March 28, 2018, Señora Travis Jimenez and Señora Teresa Dombrowski's IB and AP Spanish students embarked on a field trip to the University of Virginia. Once in Charlottesville, the students learned about the Spanish, Italian, and Portuguese programs offered at the school.  The trip began upon arrival at 9:00 AM, and immediately the students made their way from the bus to the stairs of the Rotunda, located in the center of the school. After taking a couple of pictures, the day continued with a tour around UVA from a Midlo alum Malcolm Stewart.  Stewart graduated from Midlo in 2014 and now serves as Senior Class President and head resident assistant on The Lawn at UVA. His Lawn room once housed famed journalist Katie Couric, and those who earn the privilege to live on The Lawn are among the best and brightest of UVA's students.  Stewart showed the students around the campus and talked about personal stories and famous stories, including where Edgar Allen Poe lived when he attended the school. After the tour ended, the students made their way to the UVA bookstore before their next activity.
A few hours later, the Spanish students walked over to the media building.  There, the students listened to Professor Eli Carter, who discussed his studies on Brazilian Media, explaining the differences between American and Brazilian television regarding the number of people watching and what is considered prime viewing time.  He also explained how TV viewing numbers in both America and Brazil have dramatically decreased due to new portals, such as Netflix and other online streaming websites. After asking Carter a few questions, the students continued towards The Corner to have lunch.
Following lunch, Midlo's students walked from The Corner to Cabell Hall, where they listened to Professor Alexa Hansinger, a Spanish language teacher. Hansinger attended Midlothian High School and the University of Virginia.  Going into college, Hansinger told the students about how she originally wanted to study medicine, but after four years of college, switched her major to Spanish and ended up receiving her Ph.D. in the language. While attending her class, the students listened as she supplied them with tips in English and Spanish about becoming a college student and then showed a glimpse of what being in her class would be like.  She also discussed the opportunities offered at UVA involving studying abroad in Spain and Costa Rica. From the Rotunda, the Midlo students made their way back home to Midlo.
The Midlo Spanish students had a great time visiting the University of Virginia and loved the opportunity to learn all about the Spanish opportunities offered at the school.
About the Contributor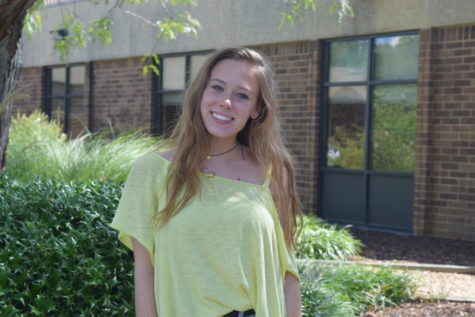 Sophie King, Midlo Scoop Photographer
Sophie King, Class of 2019