IB students pinned for their hardwork
As an official welcoming to the International Baccalaureate Diploma Program, juniors and seniors in IB were pinned on September 13. Families joined in the celebration and everyone enjoyed cake and refreshments afterwards in the library.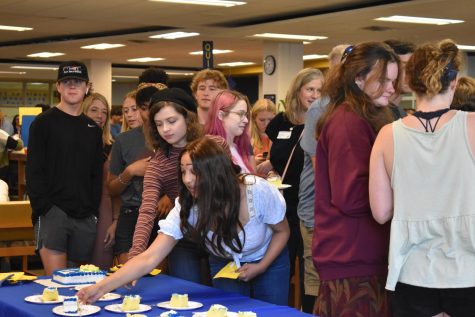 Principal Shawn Abel and IB Coordinator, Stuart Jones, delivered speeches about the dedication of the students in the program and how deserving of this ceremony as an appreciation gift. Then, former IBSC Vice President, Cameron Penn, 12, shared how the IB Program is more than a program, but a family.
"IB here at Midlo isn't just a community of learners, it's a thriving family that continues to grow each year," Penn said.
Pre-diploma candidates (freshmen and sophomores) were also invited to leave class and watch the ceremony, to foster more community between the grade levels and as a reminder that soon they'll be getting pinned.
This new tradition was supposed to have the seniors pinning the juniors. However, after COVID cancelled last year's ceremony, Mr. Stuart Jones, IB Coordinator, decided to combine both grade levels for one ceremony.
In general, the afternoon was a reminder that "IB isn't simply academics, it's collaboration, encouragement and the daily reminder that you are not alone," Penn said. 
Congratulations to the IB Class of 2023: Josh Arnaldo, Avery Belisle, Grace Bolstad, Mary Carson, Alysha Cherian, Lucas Cosby, Ava Craft, Madison Garcia, Rose Garza, Ava Gay, Delaney Geckle-Clark, Benjamin Gozzi, Alex Kimball, Sarah Matsunaga, Severin McNulty, Nalia Nugara, Jenelle O'Neill, Cam Penn, Courtney Phillips, Anosh Pithawalla, Abdullah Rana, Maggie Royle, Peyton Schwarz, Samantha Shaffer, Patterson Summers, Kate Tabor, Abby Walsh, Jacob Williams, Hannah Wootten, Armelle Worrel
Congratulations to the IB Class of 2024:
Beth Agegne, Esther Ali, Arianna Altadonna, Merna Aziz, Reese Barrett, Andrew Capehart, James Cassel, Cai Chitwood, Emma Crisp, Josh Davidson, Alexis Dinora, Nora Eltuhami, Makayla Gilman, Katherine Griffin, Morgan Hamm, Addison Hebb, Tatum Isaacs, Addie Karluk, Niko Karp, Katherine Keith, Emily Kulpa, Augusta McNulty, Kenny Monroe IV, Noah Powell, Skylar Quina, Gabe Ramirez, Ava Reese, Hayden Regan, Eliana Rodriguez, Leah Russo, Anna Schwan, Ella Searcey, Lauren Smithson, Haley Tucker, Kayla Turnbull, Alayna Underwood, Alfonso Wiley III, Miranda Wilson, Ava Wolovick, Bella Yates
Leave a Comment
About the Contributor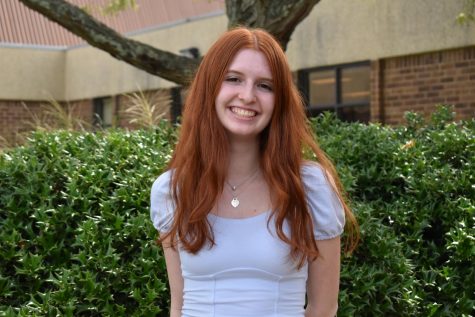 Quinn Downing, Editor-in-Chief
Quinn Downing, Class of 2023