A Quick Date With Midlo Classes
Speed Dating Event for AP/IB/DE Courses
At Midlothian High School, students can take various classes during the course of their high school careers. To prime students for their university education, many students take higher level courses as a method of preparation and to better their study habits for college. Higher level courses, such as Advanced Placement (AP), International Baccalaureate (IB), and Dual Enrollment (DE), help students experience the challenges of college level courses, while still receiving a quality education. With high expectations, these type of courses provide a great deal of information and supply a rigorous workload for those students who wish to push themselves and further their education.
On Friday, February 1, 2019, Midlo freshmen and sophomores gathered in the Closed Commons during 2nd period to participate in a "Speed Dating" event, as coined by organizers Mr. Mark Spewak and Ms. Beth Morris. As the students walked into the room, they immediately experienced a warm welcome, courtesy of enthusiastic juniors and seniors holding vibrant signs that publicized their favorite advanced classes. At the melodious sound of a triangle instrument, the dating commenced.
Each student walked curiously around the room, staring at each poster and deciding which subject grabbed their attention instantaneously. When they discovered the subject that caught their eye, they sat with the upper class representatives and received a rundown of the class and its expectations. With a time limit of 5 minutes, representatives needed to speak quickly, give enough information, and allow time for further questions at the end. Although the time limit seemed short, multiple sessions existed, which gave each student an opportunity to experience all of the classes and decide which ones they preferred.
The speed dating advanced level class event proved a "fun and effective way to share the positives of AP, IB, and DE classes and branch out to other types of courses next year," described Midlo IB senior and IB Psychology representative Mariah Rodriguez. The event exposed numerous classes offered at Midlo, even some currently unknown to students. Based on the colorful and eye-catching posters that each representative created, students saw those hidden courses, giving them "a chance to learn about the courses that are not really [well known]," stated IB senior and DE/IB Music Theory representative Jason Hwang. All in all, the event was an "awesome opportunity for students to understand Midlo's courses," as IB Coordinator Mr. Spewak explained. "You can read things on the internet and talk to teachers, but students who took the course have the true insights that translate the class well." The event and its participants proved successful, providing one step closer to encouraging students to branch out and explore new, advanced courses to better their education next year.
Leave a Comment
About the Contributor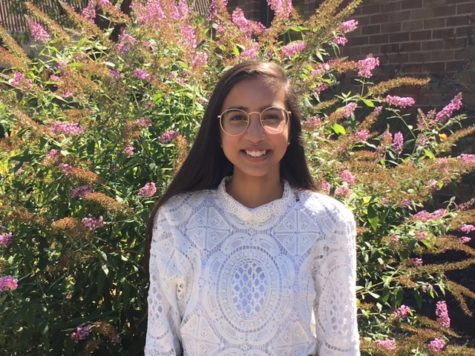 Nabiha Rais, Copy Editor
Nabiha Rais, Class of 2019