Midlo seniors look toward the future
College and Career Center Information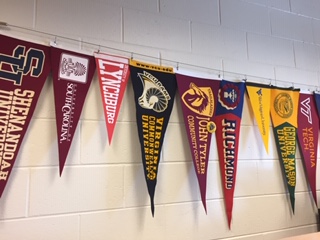 Colleges and universities across the nation adapted to the COVID-19 pandemic by offering virtual opportunities in place of previously in-person activities. Most institutions of higher learning made the once mandatory SAT and ACT optional for the Class of 2021. Virtual tours, open houses, and discussions flood in as colleges aim to secure future students. 
Midlo College and Career Coordinator Mrs. Maureen Martin invites all juniors and seniors to join the Midlothian High School College and Career Resources 2020-2021 Canvas page for updates from the College and Career center. Ms. Janet Andrews, Midlo's GRASP advisor, is available on Tuesdays in a virtual meeting setting to guide parents and students in the right direction on their search for financial assistance. The FAFSA (Free Application for Federal Student Aid), is now available for access to federal aid. BigFuture, created by College Board, serves as a tool students can use to narrow down their college searches.
Through these unprecedented times, Martin reminds seniors to "be super organized this fall. Without the day-to-day reminders about applications, deadlines, transcripts, and college visits at school, seniors might need extra tools to help track the college application process. Seniors will need to set up an individual organizational plan so that deadlines won't be missed and applications will be complete. Some students might use a spreadsheet . . . others prefer a calendar on the wall – whatever works to keep track of what's needed at the right time." 
For future college visits, visit the Midlothian High School College and Career Resources 2020-2021 Canvas page. In modules, select the College Resources tab, which houses the College Visits link. Links for virtual college visits are posted the morning of each meeting.
Savannah College of Art and Design – Thursday, October 15 @ 10:35 am
Virginia State University – Thursday, October 15 @ 11:20 am
Savannah College of Art and Design – Thursday, October 15 @ 3:00 pm
Radford University – Monday, October 19 @ 10:35 am
West Virginia University – Monday, October 19 @ 11:20 am
University of Delaware – Monday, October 19 @ 3:00 pm
Lynchburg University – Tuesday, October 20 @ 10:35 am
George Mason University – Tuesday, October 20 @ 11:20 am
Randolph Macon College – Tuesday, October 20 @ 3:00 pm
John Tyler Community College – Wednesday, October 21 @ 10:35 am
Johnson and Wales University – Wednesday, October 21 @11:20 am
Richard Bland College – Wednesday, October 21 @ 3:00 pm
Old Dominion University – Thursday, October 22 @ 10:35 am
Roanoke College – Thursday, October 22 @ 11:20 am
Mary Washington University – Thursday, October 22 @ 3:00 pm
Virginia Tech – Monday, October 26 @ 10:35 am
University of Tennessee – Monday, October 26 @ 11:20 am
Widener University – Monday, October 26 @ 3:00 pm
Radford University – Tuesday, October 27 @ 10:35
College of Charleston – Tuesday, October 27 @ 11:20
Widener University – Tuesday, October 27 @ 3:00 pm
Hampden-Sydney College – Wednesday, October 28 @ 10:35 am
St. Bonaventure University – Wednesday, October 28 @ 11:20 am
Hollins University – Wednesday, October 28 @ 3:00 pm
George Mason University – Thursday, October 29 @ 10:35 am
Virginia Commonwealth University – Thursday, October 29 @ 11:20 am
University of Alabama – Thursday, October 29 @ 3:00 pm
Indiana Tech – Wednesday, November 4 @ 11:20 am
Randolph College – Wednesday, November 4 @ 3:00 pm
Mary Baldwin University -Thursday, November 5 @ 10:35 am
Johnson & Wales University – Thursday, November 5 @ 11:20 am
Roanoke College – Thursday, November 5 @ 3:00 pm
Easter Mennonite University – Monday, November 9 @ 10:35 am
Richard Bland College – Tuesday, November 10 @ 10:35 am
John Tyler Community College – Tuesday, November 10 @ 3:00 pm
Mary Baldwin University – Thursday, November 12 @ 3:00 pm 
Leave a Comment
About the Contributor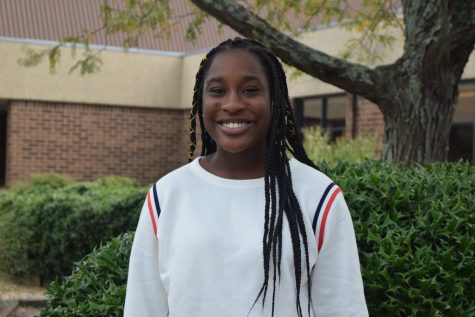 Zinzi Symister, Copy Editor
Zinzi Symister, Copy Editor, Class of 2021