MidGlo 5K
Support the The Cameron Gallagher Foundation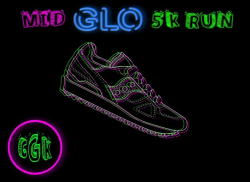 DATE:  Wednesday, November 16th …. start time of 6 pm.  WE HOPE TO SEE YOU THERE!
The Midlothian High School PTSO is proud to announce the fourth annual Midlothian High School 5K Run to be held on Wednesday, November 16. This event, held on the school grounds, has been a huge success in previous years and has been a positive experience for our school and community. This year's run will be the celebration of a combined effort between the PTSO and Midlothian High School to raise awareness of teenage mental health issues within the school and in the larger community.
The MidGLO 5k is a non-competitive fun run in which participants of all ages run or walk a course that winds around the grounds of Midlothian High School. We invite participants to illuminate themselves with glow stick, holiday lights, and glow in the dark paint as we light up the night.
This year the PTSO has chosen The Cameron Gallagher Foundation to be the receipt of funds raised. This foundation is a wonderful resource in our community for teen mental illness. They are helping through education and programs to reduce the stigma and destructive behaviors that are often associated with mental illness.
For more information, visit the website: https://runsignup.com/Race/VA/Midlothian/MidGLORun
Leave a Comment