Falling in Love With Fall
Midlo's Favorite Things About Fall
As the temperatures begin to cool and the leaves start to turn, the feeling of autumn takes over. October kicks off a three month long festive season filled with fright, thanks, and joy. As the scents of pumpkin spice and apple pie fill the noses of everyone around, the spine-chilling feeling of Halloween also approaches. On one magical day every year, Halloween, everyone dresses up as one of their favorite personas and encourages a childlike feeling. Some teenagers continue to go trick-or-treating as a way to bring back childhood memories. However, as people mature, there is a tendency to enjoy the little things to make us happiest: the crisp air, feeling the warmth of a bonfire, and perhaps even delicious s'mores.
Sophomore Nicole Green recalls childhood memories with her family picking out her pumpkin or getting lost in the corn maze at Ashland Berry Farm. Additionally, Nicole says the weather is just perfect this time of year, adding, "It's not too hot and not too cold." Juniors Katie Daniluk and Milleena McNeil both agree that their favorite part of the autumn season is the warm cozy fashion, specifically cozy sweaters and warm flannel. Sweaters are among the most popular clothing items students access during the fall. Senior Bradley Walker concurs, saying, "I like being able to wear sweaters without being judged."
Freshman Katie Krasner had difficulty deciding her favorite part about fall, saying that she just loves the season as a whole; however, she finally settled with "I think my favorite thing about fall would be all the scents, or maybe the outfits. Candy corn, I think, is my favorite [festive] candy." Also, freshman Ashton Philip adds, "I like getting candy and going trick or treating, but the clowns are scary." 
Sophomore Grace Wells enjoys seeing the leaves change colors as they fall from each tree. The colorful leaves create beautiful scenery outside each window and warm up the wonderful canvas of nature. While some like to enjoy the crisp cool air by sitting next to the fire with a blanket and a couple of laughs, or by curling up on a couch while watching a spooky movie. Junior Milleena McNeil expresses her love for movies and mentions how she excitedly waits for the Harry Potter marathons. Also, Milleena enjoys a good scare at all the Halloween fright events. While these are not for the faint of heart, everyone should certainly experience at least once in a lifetime.
Fall brings about memories from our childhood, whether at the pumpkin patch or rolling around in a pile of leaves. No matter how you celebrate the fall season, spook or spice, the aura of fall brings a sense of warm comfort best felt with family and friends.
About the Contributor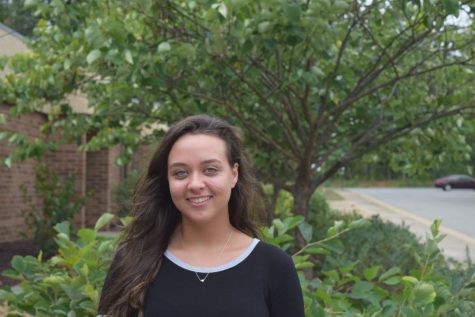 Dreya Fernandes, Staff Writer
Dreya Fernandes, Class of 2018