IB Class of 2020 reconnects over IB diploma ceremony
International Baccalaureate Diploma Ceremony and graduate panel 2020
Midlothian High School's International Baccalaureate (IB) Class of 2020 received their IB Diplomas and certificates this past Wednesday, January 6, while reuniting with teachers and classmates. This year, however, the IB Parent Council hosted the meeting virtually through Zoom . The college freshmen received their awards for successfully completing the challenging two-year IB program. In order to receive the diploma, IB students must complete the 4,000-word extended essay, have 150 creative, active, and service hours, and take certain classes such as Theory of Knowledge. The class of 2020 had an 89% pass rate for the IB diploma, which is 13% above the world average.
After the unprecedented end to the 2019-20 school year, the ceremony gave an opportunity for the Class of 2020 to see each other screen-to-screen. "Being back with the same group of people I spent all of high school with was really great. It was also so nice to see all the teachers that helped us get our IB diplomas," Lara Ballout, a University of Richmond pre-law freshman said. 
IB Coordinator, Mr. Mark Spewak, opened the ceremony by thanking everyone who attended the meeting and explaining the requirements necessary to qualify for the diploma, saying that "earning the IB Diploma represents the success of completing the IB Program." Spewak encouraged the Class of 2020 to express their gratitude to a family member who had helped them through their IB journey with a high five, hug or by saying thank you. Midlo Principal, Dr. Shawn Abel, also gave his congratulations to the class and shared how impressed he was with the IB graduates.
Next, Spewak introduced the IB Teacher of the Year, voted for by the class of 2020, IB Biology Teacher Ms. Rachel Hill. Hill stressed the importance of biology throughout COVID-19, gave a short lesson about the negative effects of stress on the body, and led a breathing exercise that left students and parents alike feeling rejuvenated. After Hill's presentation, Spewak went through the diploma recipients, and they each shared their favorite memory from IB, where they attend college and their major. 
Following the diploma ceremony, many of the IB alumni stayed back for a graduate panel to offer advice to prospective and current IB students. "The January 2021 IB Graduates panel was an awesome way to catch up with the Class of 2020, and it is always a blessing to hear from them! They are all doing amazing things, and we are so proud of all their accomplishments," IB Student Council Historian Senior Lisa Witherow said. Throughout the night, the graduates answered questions, such as how their IB experience helped prepare them for their first year of college, and explained how their IB credits transferred over to their college, giving IB students insight on the years ahead. By the end of the evening, the panel gave everyone a better understanding of the Midlo IB Program. 
Congratulations to the Class of 2020 International Baccalaureate Diploma Recipients:
Lara Ballout
Jacob Cantor
Nora Carlucci
Chris Carrillo
Courtney Gallagher
Bacillus Gottipati
Thomas Gregory
Benson Kaminski
Akhila Mandalika
Alex Muris-Roman
Anushka Pandya
Molly Parrish
Quentin Phillips
Avnee Raje
Nataly Solares Sarceno
Matthew Tichenor
George Welshe
About the Contributor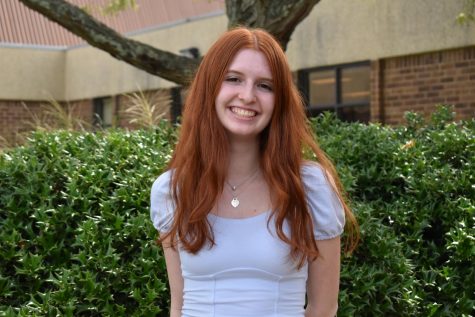 Quinn Downing, Editor-in-Chief
Quinn Downing, Editor-in-Chief, Class of 2023