CCPS Superintendent shocks Mr. Spewak with Game Changer Award
Spewak earns CCPS Game Changer and Midlo EOM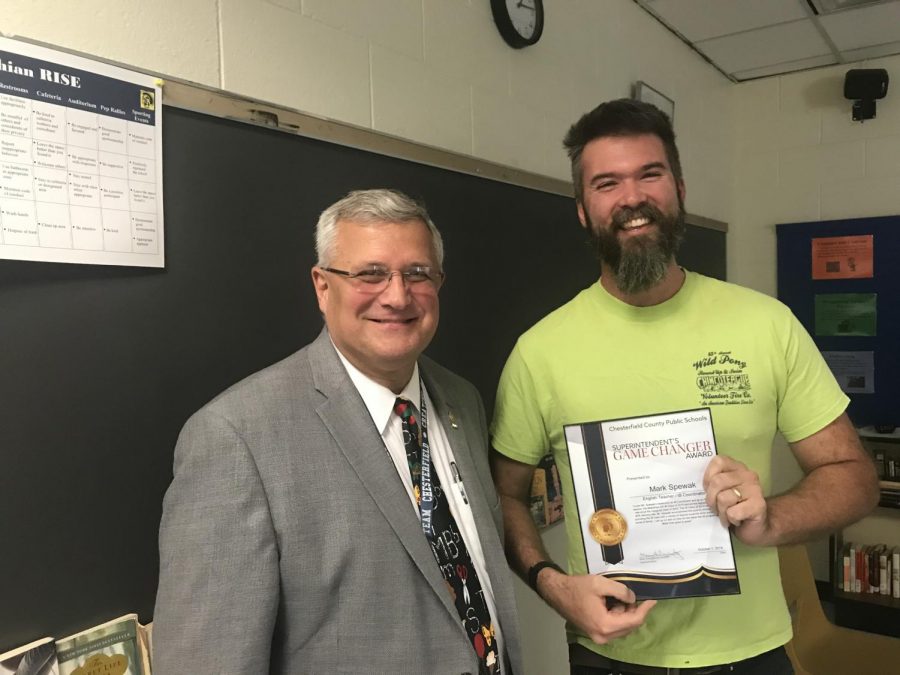 On Wednesday, October 2, 2019, Mr. Mark Spewak received the CCPS Game Changer Award from CCPS Superintendent Dr. Merv Daugherty.  Mr. Spewak, Midlo's IB Coordinator and an English teacher, has touched countless students and made a lasting impact on their lives. In addition to receiving the Game Changer Award, Mr. Spewak also was named Midlo's September Employee of the Month.
Were you surprised that you received this award?
"Yes, very! I didn't even know I was nominated, and apparently it took the efforts of a number of colleagues to send in nominations. I am deeply moved by their kind and generous words, as well as their encouragement."
How did you feel when you received this award?
"I was in the middle of teaching my 3rd even English class when Dr. Abel and Superintendent Dr. Daugherty darkened our doorstep. I initially thought they may just be coming in for a classroom observation, but when I saw the award in Dr. Daugherty's hand, I am sure I went pink in the face… mainly because it was Spirit Week, and I was wearing a goofy, fluorescent green t-shirt for "Wild Wednesday," instead of my "normal" teaching attire. I got over it and was immediately overwhelmed with gratitude."
Did you do anything to celebrate the award?
"Since I was not exactly expecting to receive an award of any kind, I didn't have anything specifically planned; however, my wife did make an awesome apple crumble dessert with vanilla ice cream to celebrate!"
What does this award mean to you?
"Receiving the Superintendent's Game Changer Award was a complete surprise, and I am both humbled and honored to have been even considered for this county-level award. In all honesty, I feel I must share any recognition of the IB program with our amazing students, dedicated teachers and counselors, hard-working IB Parents council, and our IB Midlo community as a whole. The success of our program is a team effort, and I am so pleased to be a part of such an awesome team."
Congratulations, Mr. Spewak!
About the Writer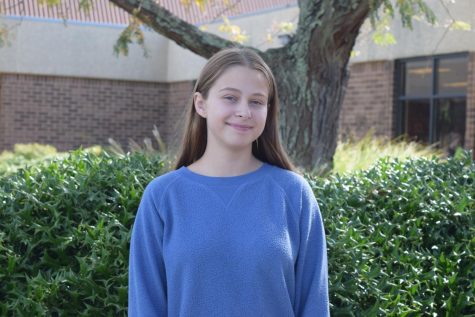 Ava Gay, Midlo Scoop Staff