Trojans Soccer Battles Cosby for Burger
Midlothian Boys Varsity Soccer Against Cosby
On Monday, May 6, 2019, the Midlothian High School Boys Varsity Soccer Team hosted the Cosby Titans in an intense match to honor Midlothian goalkeeper, Matthew Burger. Prior to the game, students and parents purchased t-shirts with the slogan "#goaliestrong" to support the Burgers' medical costs and wore their shirts to the game in support of the Burgers.
Over Spring Break, sophomore goalkeeper Matthew Burger got in an ATV accident and broke his temporal and occipital lobe after hitting the ground and a tree. Fortunately, Burger came out in serious condition, but with a promising prognosis: no paralysis. Once the two soccer programs heard about Burger's accident, the Midlothian Girls Soccer team joined and decorated Matthew's locker with words of encouragement from his friends.  Also, both teams have sported Burger's number, #00, on the back of their warm up jerseys before every game.
Midlothian's game against the Titans proved to be a big one, as it was Burger's first game back from being released from the hospital. Nearly every community member donned the blue, "#goaliestrong" t-shirt and gave their best wishes to the Burger Family. As the team began to warm up, everyone's focus was to play for their teammate.
As the game kicked off, the Trojans pressed with high intensity and earned the first goal of the match within the first ten minutes by a header from senior Smith McGuire. Once the Trojans had taken the lead, the focus shifted to possessing the ball and maintaining the lead.  However, after earning a free kick, the Titans soared the ball into the back of the net, evening up the score. After another surge of energy, the Titans scored again, taking the lead by a score of 2-1.  At halftime, coach Chad Porter lifted the team's morale, igniting a fire under the team's spirit.  Once the second half commenced, the Trojans came out with high intensity and put the Titans under pressure. However, the Titans were able to sneak a ball into the back of the net, expanding their lead to 3-1. After this deficit, the Trojans worked to gain back the goals, and on a late corner, sophomore defender Graham Wright headed the ball into the goal, bringing the score to 3-2 in favor of the Titans. As the clock ran down, the Trojans kept their fighting spirit and did not give up until the end.  Although the game ended in a Cosby victory, the Trojans played their hearts out for their teammate.
About the Contributor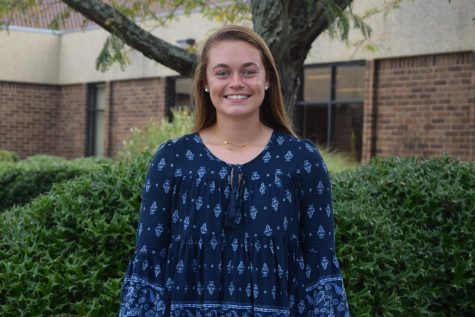 Erin Junkmann, Sports Editor
Erin Junkmann, Class of 2020