IB Students Exhibit Artistry
2019 Midlo IB Art Exhibition
Within the halls of Midlo, there are a multitude of masterpieces bearing meticulous pencil lines and brush strokes. In every masterpiece, Midlo's art students express themselves through their creations, painting a story that illustrates them specifically. Midlo's International Baccalaureate (IB) Art students, however, express their messages by fully immersing themselves in their work, as seen through their final IB Art Exhibition. On Wednesday, April 17, 2019, IB Art students, Nabiha Rais, Halleigh Carson, and Elizabeth Bolstad, constructed their Exhibition, showcasing their best pieces created over a two-year span. Displayed at the International Festival, Fine Arts Festival, and in front of the auditorium, the Exhibition accurately illustrates the effort, perseverance, and dedication put in by the IB seniors to deliver their artistic messages.
The artwork by IB senior Nabiha Rais expresses her focus on Islamic and Pakistani culture. Rais' artwork portrays her interest in the Holy Book of Islam, the Quran, Arabic calligraphy, Islamic architecture, and traditional and modern Pakistani fashion. Using her personal background and the assistance of her family, Rais' work reveals her personality and beliefs. "As a Pakistani Muslim, I wanted my art to express my passion for Islamic and Pakistani culture. From reciting the Quran, to draping myself in intricate Pakistani scarves, I embrace both themes, which I believe are vibrant and divine art forms," described Rais.
The artwork of IB senior Halleigh Carson explores the obstacles and challenges commonly faced during the developmental periods in life. Titled "Calamity and Contradiction," her Exhibition leads into "greater discussion of how challenges we face in life can be highly beneficial to us in the future," said Carson. Based on the challenges she has faced, Carson chose this theme to recognize those challenges and reflect on them in a positive light. "By recognizing how we have grown in the past, we can learn how to grow in the future," stated Carson.
The artwork of IB senior Elizabeth Bolstad uses the impact of mental disorders and how it can cause a disconnect from reality. Through her art, Bolstad covers inconsistent perceptions of self, paranoia, hallucinations, delusions, and more. "My portrayal of these symptoms are not all edgy, as some of them reflect the more positive side of the different ways in which different brains function. To elaborate, many mental health professionals believe that when someone experiences severe delusions, it is not always necessarily important to bring them completely back to 'reality'," details Bolstad. Using multiple artistic techniques, Bolstad believes that what matters in those with mental disorders is  "they are living lives in which they feel fulfilled, and they are not hurting the ones around them."
The IB art seniors immersed themselves in the art world through their time, devotion, and patience to their craft, as seen through their carefully made pieces in the IB Art Exhibition. Their works not only depict their efforts over the past two years, but it also showcases their beliefs and persona, ultimately capturing the essence of a true artist.
Leave a Comment
About the Contributor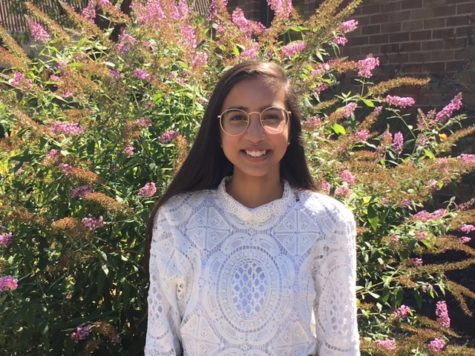 Nabiha Rais, Copy Editor
Nabiha Rais, Class of 2019