IB Embarks on a Czech Adventure
After counting down months, days, hours, and minutes until the very last second, members of Midlo's International Baccalaureate (IB) Program packed their bags and flew across the ocean to visit Prague, Czech Republic, over Spring Break. As part of the Prague Spring 2019 Global Exchange Trip sponsored by CAS Trips, IB students jumped at the chance to travel for one week to not only experience the Golden City of Prague, but also to give back to the community in a voluntary exchange.
Returning from their trip, each participant brought knowledge from Prague embedded in their brains and snippets of the trip itself, including the plethora of sights they experienced along the way. From the Franz Kafka Museum, to the Czech street art, the city's own beauty proved a favorite for many. "Out of all of the sights, I thought the Kutná Hora was my favorite; you walk into the church, and you immediately see a chandelier made of bones. It was disturbing, but definitely quite interesting," described IB senior Czar Gentius-Harris.
Along with being tourists of a new city, the IB students and faculty volunteered their time and energy to help the community in Prague. Through the Creativity, Action, and Service (CAS) portion of IB, each participant undertook an initiative in the community, such as cooking soup for a local homeless shelter. "I loved the work we did on the farm and at the homeless shelter! It was really nice and fun to see the whole community and meet people from different schools, considering we were all working together as a team," said IB senior Ainslee Grizzle.
Each day in Prague proved different for the students and faculty, as they endeavored to spend all day and night experiencing every inch of Prague and its rich history. After seeing the beautiful architecture dating back to the 11th century and eating an abundance of authentic Prague cuisine, it was clear that all of the participants had an unforgettable time in the city. Midlo's IB coordinator Mr. Mark Spewak provided insight on the trip and how it allowed the participants to obtain a glimpse of what the world truly has to offer.
What did you learn from Prague? Why were you there?
I personally learned a lot, and the students did as well. Learning happens better when you are physically there, and it is cooler when the stories are actually told to you; as a result, it was both a learning experience and an experience in learning. To be honest, we are an international program, and it was high time that we did something internationally.
How many students and faculty attended?
There were 15 students, ranging from freshmen to seniors. Along with Mrs. Speller and I, there were two other parents that joined us.
For many, this was their first time travelling abroad. How did they feel?
For some, it was their first time travelling abroad; for others, it was their first time travelling on an airplane! I could see the feelings of excitement despite their nerves going off the roof, but it was good nerves nevertheless.
What was the daily schedule like in Prague?
It was tiring, but every day was fun and worthwhile! From making cultural street art, to seeing a concentration camp, we had so many different emotions. Regarding CAS, we sold magazines to raise funds for a homeless population, as well as making soup for the homeless at a culinary kitchen. Regarding fun activities, we participated in yoga and did a Prague Walking Tour. We even got our hands dirty on a sustainable organic farm.
What was the ultimate highlight of the trip?
I think it was the sense of friendship and community we were able to forge. Everyone came together so well, and it was cool to see everyone intermingle in an organic and positive way. I could not have thought of a better group of kids to go.
Although the initial logistics of the trip were seemingly endless, the Prague trip proved worth the wait for those attending. For most, Europe made its mark as a timeless memento, and everyone's expectations of Prague as a city filled with copious amounts of beauty, history, and intrigue came vividly true. The question for next year remains: where will Midlo IB travel next?
Leave a Comment
About the Contributor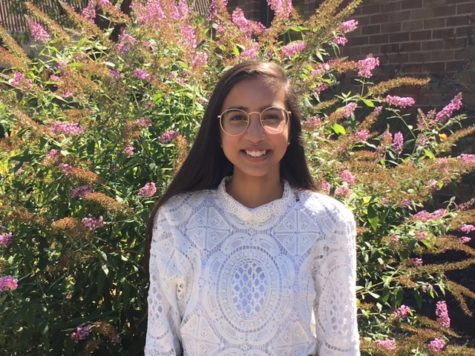 Nabiha Rais, Copy Editor
Nabiha Rais, Class of 2019