IB Class of 2018 Earn Coveted Diploma
IB Diploma & Certificate Ceremony: Class of 2018
Hang on for a minute...we're trying to find some more stories you might like.
The International Baccalaureate (IB) Program boasts hardworking, devoted, and driven students. To graduate from the program, students complete a multitude of tasks and objectives, allowing them to excel in the esteemed program in the most efficient way possible. Based on how well each task and objective is executed, students in the program are granted the IB Diploma & Certificate, which exemplifies their achievements and arduous efforts, as well as being an overall honor and prestige to IB students for their work in the program.
On Thursday, January 3, 2019, students from Midlo's International Baccalaureate (IB) Class of 2018 walked the halls of Midlo once again to receive their IB diplomas and certificates. In order to distinguish their exceptional accomplishment of completing the IB program, Midlothian High School hosted the annual IB Diploma Ceremony. Held in the library, IB students and faculty attended the ceremony and supported the IB Class of 2018. The ceremony began with a welcoming speech from Midlothian Principal Mr. Shawn Abel. Delivering the keynote address, Midlo's 2018 IB Teacher of the Year Señora Travis Jimenez addressed the class with inside jokes, appreciative words, and high regard towards the class itself. As the speeches came to an end, IB Diploma Programme Coordinator Mr. Mark Spewak handed the diplomas and certificates to each member of the IB Class of 2018. To celebrate the event on a sweet note, a closing reception followed the ceremony with dessert provided by the IB Parent Council (IBPC).
International Baccalaureate Class of 2018 Diploma & Certificate Recipients:
Joitree Alam
Samantha Brishke
Venkat Churchill
Griffin Connor
Riya Devani
Maheen Farooqi
Abigail Fischer
Kathryn Gatuslao
Haley Hopkins
Christina Ju
Jason Li
Alexander Lilly
Elena McCloy
Devin McCombs
Madelaine McDowell
Milleena McNeil
Sai Poluri
Daniella Relvas-Veliadis
Timothy Soukup
Yatu Xu
About the Contributor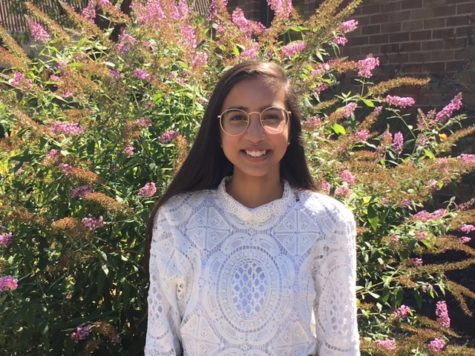 Nabiha Rais, Copy Editor
Nabiha Rais, Class of 2019