A Festival Around the World
IB International Festival, 2018
195 countries. 7 continents. All in one world. Our society holds a diverse set of people with a particular cuisine, fashion, and art, creating a rich and vibrant culture. On Thursday, April 12, 2018, Midlo's International Festival exhibited many of our world's cultures through traditional dances and food to provide an authentic portrayal of how they enrich our world today. Hosted by the IB Student Council and sponsored by Richmond Animal League, the International Festival successfully brought a representation of our world's cultures, while observing the amount of diversity our world has to offer.
To commence the event, a variety of traditional meals,  which were immediately devoured, circulated the closed commons. From appetizers to desserts, each of the meals flew from country to country, providing a glimpse of each culture and its traditions. Once the mouth-watering meals were enjoyed, the event continued to the silent auction, which displayed handmade baskets by Midlo's IB classes. Freshmen had a Movie-Night basket, filled with popcorn, candy, and movie-theater gift cards. Sophomores had a Stuff-Your-Face basket, stocked with snacks and gift cards to fast food restaurants. Juniors had a Coffee House basket, supplied with mugs, coffee, and Starbucks gift cards. Seniors had a "Treat Yourself" basket, which had candles, bath salts, face masks, chocolates, and gift cards to a number of places. Based on the treats in each basket, the baskets, attendees bid on the items, and many lucky families won, receiving the basket and enjoying it at home.
Juniors Raven Coe and Zane Ruzicka, who provided amusement to enhance the evening, guided the performance aspect of the festival, which began with a fashion show representing the traditional clothing of cultures around the world, such as Bangladesh, India, Africa, Peru, and more. During the performance part of the festival, David Maddirala pulled off a surprise promposal with flowers and a colorful sign. Swept off her feet, Raven Coe reacted with a definite "yes" to Maddirala. After the promposal, the event flew across the world with every move and beat in the live performances.
Traditional dances from all over the world, accompanied by traditional music, took place on stage, including a Bengali dance, a Bollywood dance, a Scottish Highland dance, and a Mexican Jarabe Tapatío dance. To modernize the dances, an improv dance by Da-Lan Pham and a contemporary dance by Raven Coe moved its way onto stage, accompanied by lively music. Taking a break from musical instruments, Midlo's Latin Club graced the stage with a performance of O Tempora, an excerpt from an observation made by Cicero. To continue the performances, live performances by local Midlo bands, such as Jinwoo Experience, The Marquis, and Line-In, took center stage. The live concert continued with single acts by Vincent Mangano, Q & M, and a surprise performance by Mr. Mark Spewak. Each performance energized the crowd, while highlighting many cultures our world has to offer.
The International Festival intrigued event-goers by displaying a representation of the diversity that occupies our world. Every aspect of the event left the crowd in wonder, while they discovered more about the cultures of our world. The event not only gave a glimpse of our world's cultures, but it also provided a memorable and entertaining experience for those who attended.
About the Contributor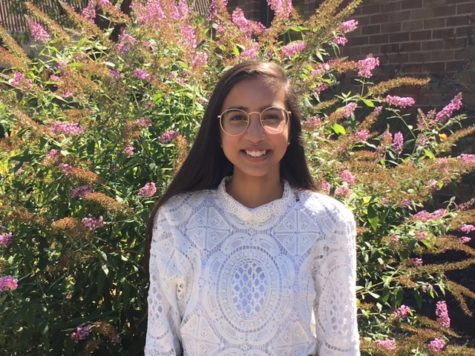 Nabiha Rais, Copy Editor
Nabiha Rais, Class of 2019