Senior Lena Caffall earns 2021 Student of the Year
With senior Lena Caffall's sunny personality and unmatched work ethic, it's no surprise that she has been named the 2021 Student of the Year for grades 11 and 12. Finishing at the top of her graduating class, Caffall has spent her four years at Midlo working, volunteering, and competing to bring both inclusion for all and prestige to Midlothian. She said, "I am super honored to earn this award because it means a lot to me to know that my teachers have recognized my hard work. I really appreciate all that they have done for me over the years, so it feels amazing." In the classroom, on the track, and around the community, Caffall radiates kindness and demonstrates the meaning of good citizenship. 
During her time at Midlothian, Caffall has made a huge impact in Midlo's running program as a four-year varsity athlete. She spends every afternoon working to better herself as a member and captain of the Varsity Cross Country team and Varsity Track and Field team. In her running career, she has contributed to many regional victories and state podium finishes. She achieved her most proud running accomplishments as a junior when she broke 20:00 in the 5K at Nike Cross Regionals and ran 3:09 in the 1000 meter run at the St. Christopher's Invitational, qualifying for states. "I run because it is a great way to relieve my stress and push myself; I'm so thankful for my teammates for supporting me and Coach Morgan for always believing in me," Caffall said. Extending her competitive spirit to academics, Caffall has also competed for Midlo's Future Business Leaders of America chapter for four years. She finished 6th in the 2019 National Leadership Conference in San Antonio, and for the past two years, she has served on the Executive Council.
In addition, Caffall is a founding member of the Champions Together club, which works to bring inclusion and togetherness for students of all abilities at Midlo. She has served as an officer in Champions Together for two years, where she has worked to further the message of the club through the Medford League and Special Olympics. In the future, she hopes to continue working with special education students, as she "has always felt a passion for doing so." Finally, Caffall is the Treasurer of the Spanish National Honor Society and a member of the Spanish Club, preparing her for her future studies in international business. 
Despite her packed schedule, Caffall continues to sustain exceptional grades and earn additional awards. Her impressive resumé also includes earning a Silver National Spanish Exam ranking and various subject awards. Next year, Caffall plans to attend James Madison University, where she will double-major in elementary education and international business. With her bright mind and spirit, Caffall made a substantial impact on Midlothian, and she will continue to do so at JMU. 
Leave a Comment
About the Contributor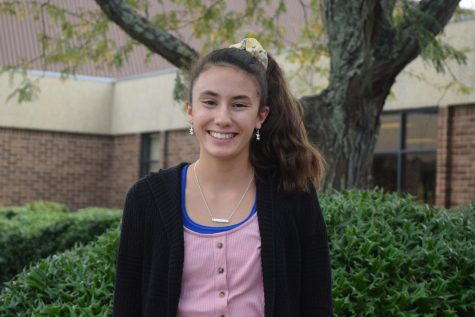 Katherine Krievs, Editor-in-Chief
Katherine Krievs, Editor-in Chief, Class of 2021