Good awarded October Employee of the Month
Midlo October Employee of the Month: Ms. Good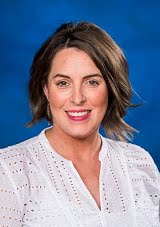 Each month, Midlothian High School recognizes an outstanding faculty member with the Employee of the Month Award, crediting the individual for their commitments and continuous contributions to the community. For the month of October, Ms. Christina Good received the award for her lasting efforts in aiding faculty in their preparations for hybrid learning. Good, a Midlothian High School graduate, attended James Madison University, where she earned her B.F.A. in Graphic Design. Offering a necessary teacher perspective in the planning process, Good used her knowledge and experience with technology. She worked professionally as a graphic designer prior to becoming a teacher, so she seamlessly guided her colleagues in navigating the online world and creating a practical and efficient environment for all. By demonstrating her leadership abilities as the active head of the Fine Arts Department, as well as teaching several digital design and various studio art classes to students of all grade levels, Good has made an exceptional impact on those around her at Midlothian High School.
What does receiving the Employee of the Month Award mean to you?
"It is wonderful to be recognized by the administration and my peers, especially at a time when I know that all teachers are working extra hard. I really enjoyed the challenge of helping troubleshoot and plan how teachers could be successful with technology during our (short-lived) hybrid instruction time this fall. I wanted to make sure all of us could feel confident in how we were going to make it work, from the tech-challenged to the tech-pros!"
What initially prompted you to want to become a teacher?
"I've wanted to be an art teacher since I was very young, but in college, I decided to drop my education major in favor of a BFA in Graphic Design. After graduating, I started substitute teaching (mostly here at Midlo!) and really enjoyed working with the students and getting to know some of them, as I was in the building so frequently. One student in particular said, "You should be a teacher… you're nice," and it stuck with me. After some pressure from family members, I enrolled at the University of Richmond and earned my teaching license in under a year."
What classes do you teach at Midlo?
"This year, I am teaching all levels of Digital Media & Design (Graphics), and the mixed Art 4/AP Studio/IB Studio Art class." 
How have you been able to navigate the challenges presented by both hybrid and virtual learning?
"I have tried really hard to keep my course information and assignments super organized on Canvas, so students and parents can easily access everything they need. Thanks to my extremely tech-savvy husband, I have been able to adapt to the additional software and hardware more quickly than I initially imagined. Collaborating with other teachers (especially early on in the year) helped me brainstorm ideas and find the best ways to plan or execute lessons."
How have you kept your students engaged and motivated in this new learning environment?
"Not going to lie, IT IS HARD!! I always try to plan creative activities and projects where students can use their personal interests, images, and ideas. I encourage trying new materials and techniques in journals. But during virtual learning, this is where teachers really need the students to work with us. As I have told my classes many, many times… it isn't fun teaching to a bunch of blank screens/icons on Google Meet! It is really difficult to gauge student understanding when we can't see reactions, facial expressions, confusion, etc. And a lot of students say they aren't comfortable asking for help during asynchronous class time or Midlo Morning when other students are in the Meet. We want you to succeed! We want to interact with you! We chose this career because we enjoy working with you!"
Who inspires you most throughout your day-to-day life and why?
"Many people! One of my college art history teachers, who managed to turn every class into magic with his great storytelling & passion for the subject. Also, all of my friends who are out in the design world, owning their own businesses and making cool things!" 
How do you spend your time outside of the classroom?
"My husband and I have always really enjoyed baking and doing home projects. I have been working on my sourdough skills during COVID (lots of pizza and breads), and we are currently finishing our attic space. Our daughter also recently turned two, so she keeps us very busy!"
What is one thing no one would guess about you?
"My parents own a hot air balloon. It hasn't been used since I was a baby, but they still have all the parts in their garage."
Congratulations, Ms. Good!
About the Writer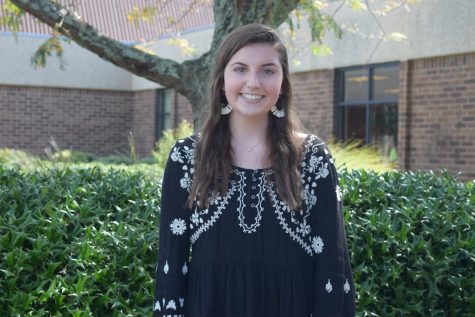 Bridget Tracy, Copy Editor
Bridget Tracy, Copy Editor, Class of 2022