Senior Ben Wrobel named 2020 Student of the Year
Ben Wrobel earns the 2020 Upperclassmen Student of the Year
Senior Ben Wrobel, a leader both in and out of the classroom, is Midlothian High School's 2020 Upperclassmen Student of the Year.  Wrobel, a section leader and drum major in Midlo's Trojan Marching Band, DECA's VP of Competition, and a friend to all, has dedicated four years of hard work and drive to Midlothian High School, earning this prestigious award.  Wrobel humbly exclaims, "At first, I was really surprised because I didn't think I deserved it.  I thought that there were more deserving people that might not get recognized."
Dr. Shawn Abel praises Wrobel stating, "Ben and a few other band leaders came to school in August to help setup for teacher work-week, which was pretty cool.  Also, [Ben] helped me a lot on the DECA trip when I had to be the last minute chaperone leader." With the numerous ways Wrobel has upheld Midlothian's core values, he earned the most teacher nominations, and received nothing but positive feedback and praise from each of his teachers.  In the classroom, Wrobel has earned an impressive 5.01 GPA, while finding opportunities to help his peers succeed as well. While a leader in class, Wrobel gives his time outside of the classroom to several Midlothian activities such as: Marching Band, FCA, Show Band, DECA, and FBLA.
Wrobel's work ethic and dedication stems from his career in baseball, which he started at the ripe age of 4. Wrobel states, "Baseball was always a constant presence in my life. I think it helped push me to work hard and keep me in shape, while also teaching me respect and perseverance."  Not only does Wrobel dedicate his time to athletics and academics, but practices a well-rounded lifestyle by contributing to his community, serving as a leader in Discipleship and Leadership, as well as a prayer group leader at Grace Bible Church Youth Group.
Along with his well-balanced interests, Wrobel is a member of the National Honor Society, Mu Alpha Theta, National Science Honor Society, Tri M, and the DECA Honor Society.  Wrobel will attend the University of Virginia to major in Business Finance and Mathematics.  Amidst the Coronavirus pandemic, the Class of 2020 did not have a proper chance to thank their teachers and say goodbye to Midlo, but when asked Wrobel, shares, "I would just say thank you to my teachers. They were a big part of my life for 4 years, influencing me a lot and helped prepare me for college."   Ben Wrobel continues to amaze with his humble attitude, caring nature, and determination to be great, attributes that will take him far in life.
About the Contributor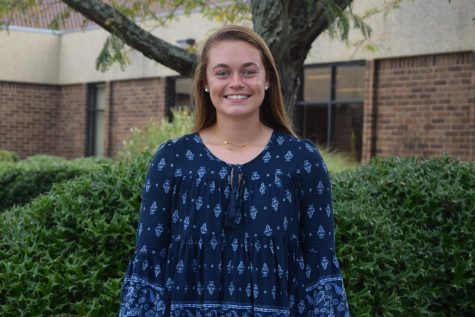 Erin Junkmann, Sports Editor
Erin Junkmann, Class of 2020