Sophomore Gabriella Garcia earns 2020 Student of the Year
2020 Student of the Year for Grades 9 & 10: Gabriella Garcia
Sophomore Gabriella Garcia's upbeat demeanor, coupled with her unrelenting academic and athletic work ethic, resulted in the Midlothian High School faculty naming her the 2020 Midlo Student of the Year for grades 9 and 10. She expresses that she is "extremely honored to have earned such a prestigious award" and that she "couldn't have done it without the help of [her] teachers, coaches, and family." In the classroom and on the track, Garcia demonstrates a positive and compassionate mindset that touches those around her.
Even though she only has attended Midlo for one year, Garcia has made a huge impact in Midlo's running program. She spends the majority of her time competing on both the Varsity Cross Country team and Varsity Track and Field team; this year, she led the Cross Country team to a regional victory and a state runner-up finish. Individually, she was the VHSL Region 5B Cross Country Champion, VHSL 5A State Cross Country Runner-Up, and a Nike Third Team finisher at Nike Cross Regionals. During her Indoor Track and Field season, she was the VHSL Region 5B 3200 meter champion, placed fourth at the state level, and qualified for New Balance Nationals on Midlo's 4×1 Mile team. Regarding running, she enjoys "the feeling of accomplishment after a run and how [she] sees hard work show in [her] accomplishments." In addition, she "is very thankful for the friendships that have been created by running with the girls and the true family of runners."
Despite her competitive spirit, Garcia also finds time to volunteer at the Memory Center of Richmond, which provides support for patients with Alzheimer's Disease and Dementia and allows these residents to find suitable care. Garcia volunteers to help residents with various activities and games to brighten their days. She remarks, "It's really nice to be able to support people and bring a little extra enjoyment into their lives."
Although she spends a large amount of time competing and volunteering, Garcia continues to sustain exceptional grades and earn additional awards. Her impressive resumé includes: induction into the National Spanish Honor Society, various RISE Awards, and being named the 2019 Cross Country MVP. In the future, Garcia hopes to become a prominent member of the health, fitness, and nutrition community, a goal that she has had since the sixth grade. Her role model is her mother, Kathy Garcia, because she "always gives [her] pieces of advice and supports [her] during difficult times. She always wants to help people, especially [her] grandparents." 
On and off of the track, Garcia continues to impress others with her caring heart, strong work ethic, and positive personality.
About the Contributor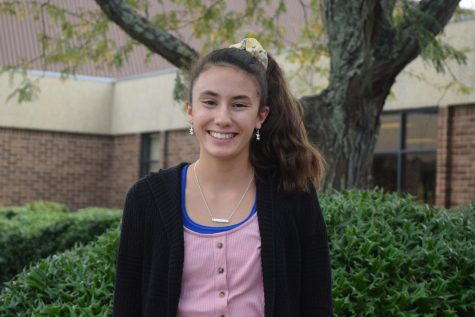 Katherine Krievs, Editor-in-Chief
Katherine Krievs, Editor-in Chief, Class of 2021