Pfund captivates viewers with viral video
English teacher Ms. Emily Pfund grows in popularity on social media app, TikTok.
Midlo English teacher Ms. Emily Pfund recently gained traction on the social media app, TikTok, a comedy app comprised of short, humorous videos, which has grown in popularity among teens in the past year. Users can film videos using different sounds or create their own sounds. Many create accounts in hopes of a viral video. Pfund reached this goal as her videos reached many pages, as students shared them across the country. 
On her account, @teachingthepfundamentals, Pfund uploaded three videos, with her top video reaching over 3.6 million views and gaining a staggering 950.3k likes. In the clip, she uses her standing as a sophomore teacher to joke about common ways her students act upon receiving their driver's licenses. In another video, she recites an original "teacher anthem," collecting over 300k views. In her most recent video, she continues with relatable teacher jokes, such as poking fun at inattentive students.
Many Midlo students grew enthusiastic to see the success of a familiar teacher on their favorite app. Sophomore Eliza Park states, "It was cool seeing a teacher I know with all the likes." Kylie Roussell, who has Ms. Pfund as a teacher, shares, "My friends from other schools sent her videos to me, and some of them are funny." English teacher Ms. Elizabeth Boese explains, "It's good to see a teacher at Midlo immersed in pop culture."
Ms. Pfund shares her journey and thoughts on her recent success:
What inspired you to make a TikTok account?
One day in my third period class, we were talking about claims, and many of my students were not paying attention and falling asleep, so to get their attention, I made the claim, "Ms. Pfund could get TikTok famous." So, it was originally just to make fun of my class. 
Do you get help from students with your videos?
My cheerleaders have helped me after practice because I don't actually know all the steps to make the TikToks.
What was your reaction when you realized the video went viral?
I was just not expecting it at all. All the cheerleaders were calling and texting me, and I couldn't believe it. It was crazy!
How do you come up with video ideas?
I knew I wanted to do the Teacher Anthem because its the  funniest trend I saw on there, and the driving one is the joke I always tell every year as my students get their licenses. 
Do you plan to continue making TikToks?
I don't think that I'm going to sit around think about it, but if the idea strikes, I'll definitely make another. 
Leave a Comment
About the Contributor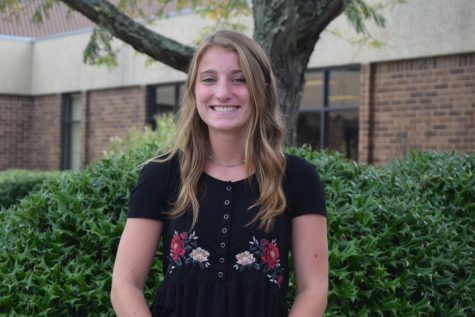 Maddie Burke, Editor-in-Chief
Maddie Burke, Editor-in-Chief, Class of 2021