2000 Girls Basketball legends come home
2000 Girls Basketball 20-Year Reunion
On January 10, 2019, 2000 Girls Basketball team returned to Midlo for a 20-year reunion during Midlo's double-header against the Clover Hill Cavaliers. This team, the greatest Girls Basketball team to ever play for Midlothian, included thirteen players, eleven of whom attended the reunion. In addition, this event honored Doug Garrett, who dedicated 31 years of his life to Midlothian High School as a teacher and a coach, coaching the 2000 Girls Basketball team to the 2000 VHSL AAA State Championship crown. 
Following the conclusion of Friday's Girls Basketball game against Clover Hill, the entire gymnasium watched game tapes from 2000 that highlighted the team's most amazing games, including the 2000 VHSL AAA Girls Basketball Championship. Then, the 2000 Girls Basketball team took the court as Midlo Activities Director Ms. Shea Collins recognized each player for her commitment to the program. The players in attendance included: Nadira Ali, Melanie Garnett (Ames), Blair Gibson (Appich), Megan Carney, Dena Floyd, Justine Gozzi, Lindsay Gish (Grap), Maria Hillenbrand, Adrienne Novack (Maher), Anna Prillaman, and Angel Ross; Megan Dickerson and Chloe Nielson also competed on the team, but they could not attend, as they do not live on the East Coast. Collins praised Coach Garrett for his dedication to Midlo, highlighting achievements during his career as Midlo's basketball coach; highlights of his career include having a record of 531-212, 25 consecutive winning seasons, ten Dominion District regular-season titles, seven district tournament championships, two Central Region titles, the 2000 AAA State Championship, and being named the 2000 National Coach of the Year. Finally, Collins recognized the former Midlothian faculty who contributed to the achievements of the 2000 Girls Basketball team. In the year 2000, the Midlo faculty included: Ed Witthoeftt (Principal), Dick Overton (Athletic Director), Jane Chandler (Assistant Principal), Wilbur Evans (Assistant Principal), and Danny Jackson (custodian). After the ceremony, the former team met with Midlo's current Girls Basketball team to inspire the present athletes and share insight.
Coach Garrett remarks, "The event was absolutely awesome. I was speechless that the girls would want to get the team back together. It's quite a tribute to their achievements. It was amazing how many people showed up to honor the team, from the parents of the players to the administrators." This incredible event showcased the love and respect that the Midlothian community has for Coach Doug Garrett and his legendary athletes. 
About the Contributor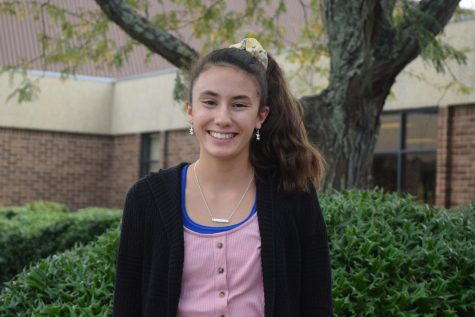 Katherine Krievs, Editor-in-Chief
Katherine Krievs, Editor-in Chief, Class of 2021