Midlo Library hosts a pumpkin extravaganza
Library Pumpkin Painting and Murder Mystery, 2019
During the entire month of October, the Midlo Library put on various spooktacular events. On October 29, 2019, students gathered in the library for an afternoon filled with pumpkin painting and mystery. Upon entering, each student received a miniature pumpkin and an assortment of colors to choose from. Halloween-themed tablecloths covered the tables to add to the spooky atmosphere, and a slideshow displayed creatively decorated pumpkins for inspiration. Midlo librarians provided snacks including: cookies, tortilla chips and salsa, cookies, and soft drinks. 
Excited chatter filled the room while students painted their pumpkins. With only an hour to create a masterpiece, students used blow dryers to speed up the paint drying process. Junior Rand Shaikhqasem, who painted the batman logo on her pumpkin, stated, "It was a great experience because I did it with all my friends." Participants had the option of taking home their completed pumpkins or leaving them on display in the library.
Head Librarian Ms. Heather Murfee interrupted the activity, announcing that someone had murdered Pete the Pumpkin. It was up to the participants to find out who committed the crime. Clues provided by Murfee assisted students in the process of opening various locks. With much determination, the participants cracked open the final box. The man behind the Pete the Pumpkin's murder was English teacher, Mr. Drew Davis.
Library Assistant Ms. Elizabeth Cequeria, who experienced her first pumpkin painting at Midlo, stated, "It was exciting to see so many kids here. They were having a fun time painting, and they enjoyed solving the mystery of Pete the Pumpkin." All in all, students had a blast at this spooky event, as they let out their creative sides while making new friends and memories. On November 12, 2019, the library will host an IRL Gaming event. All students are invited to play board games, meet new people, and enjoy food. 
Leave a Comment
About the Contributor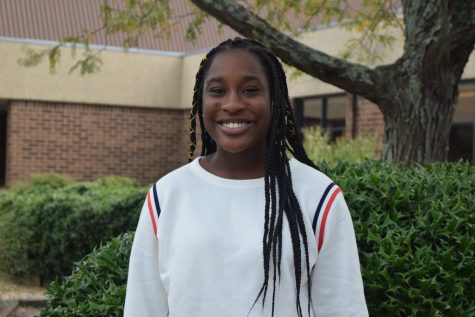 Zinzi Symister, Copy Editor
Zinzi Symister, Copy Editor, Class of 2021