Midlo Show Choir Hosts Night of Stars
On February 15, 2019, Midlo's Show Choir groups, Just for Show and City Lights, stood in the spotlight for Midlo's annual Night of Stars. Every year, Night of Stars takes place on the eve of a Show Choir competition, and the performance serves as an opportunity for all of Midlothian to view the Show Choir competition numbers. Midlo's Show Band provided the music, which filled every inch of the auditorium with an infectious rhythm. In the end, Night of Stars had an enormous turnout and generated revenue that will support Midlo's Choral Program and fund scholarships; this success would not have occurred without the help of many community sponsors.
The curtain opened with a patriotic parade of red, white, and blue costumes, worn by City Lights, Midlo's all-female Show Choir group. This tribute to Jacqueline Kennedy began with a rendition of God Bless America, followed by We Call Her Jackie, in which Sophia Nadder entered the stage portraying Jacqueline Kennedy. The dynamic set continued with Ain't No Other Man, Always Right Beside You, and It's Not Over. Throughout the entire performance, the performers enthralled the audience, as they portrayed Jacqueline and John Kennedy's relationship, and how it unfolded during his presidency and assassination.
Following the conclusion of the City Lights performance, James Madison University's premiere all-male a capella group, The Madison Project, took the stage. This group, formed by J.R. Snow and Dave Keller, opened with an interpretation of Waiting on the World to Change, with soloist Aiden Everett. Then, the group performed New Light, Life Could Be A Dream, and If I Ever Fall, with soloists Aaron Green, Ian Logan, and Reid Wilkins. Finally, The Madison Project showcased a lively medley of The Beatles' songs, including the hit song, Hey Jude.
The show closed with Just for Show and their inspirational piece about rising from the ashes, banding together, and becoming a single, strong entity. The set began with The Phoenix, an upbeat and energetic number with performers dressed in dazzling costumes. Then, the entertainment continued with Crazy = Genius, Don't Let the Sun Go Down On Me, Trespassing, and We Belong As One. Soloists included: Peyton Strange, Hunter Pearson, and Charlie Van Den Oord. Choral Director Mr. Atticus Finn describes all performances as "amazing" and that he "has a good feeling for the upcoming competition."
After the conclusion of the production, all performers and attendees enjoyed a feast of nachos, brownies, sandwiches, cookies, donuts, fruit, and punch. Finn would like to thank the Choral Boosters, parents, community, and Principal Shawn Abel for supporting the program, expressing, "We couldn't do it without them.".
About the Contributor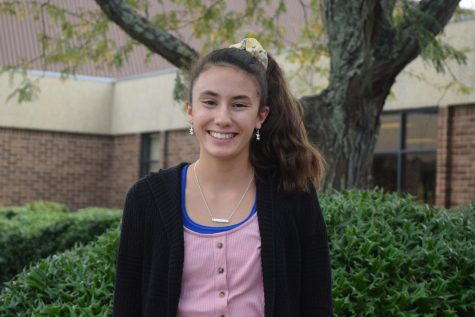 Katherine Krievs, Editor-in-Chief
Katherine Krievs, Editor-in Chief, Class of 2021