Midlo Indoor Track Wins at Liberty
Holiday Invitational 2018
On Friday, December 21, 2018, Midlo's Indoor Track team competed in the Holiday Invitational at Liberty University in Lynchburg, Virginia. The Liberty University facility boasts state-of-the-art timing systems, a hydraulic track, and impeccable spectator viewing opportunities. Led by coaches Stan Morgan, Dan Ward, and Matt Hutchings, the Midlo athletes ran, jumped, and threw their way to victory, which helped both the boys' and girls' teams to finish in 1st place.
The meet started with a bang, as Midlo's Girls 4 x 800 relay team easily won, earning top points for Midlo; teammates include Annabel Schepker, Millie Weinhold, Chloe Martin, and Caroline Bowe. Then, the Midlo girls racked up many more points. Top performers include: Dasia Hardy (4th, 55 meter dash and 3rd, 300 meter dash), Chloe Martin (13th, 1000 meter run), Annabel Schepker (4th, 1600 meter run), Katherine Krievs (3rd, 3200 meter run), Erin Babashak (2nd, 55 meter hurdles, 7th, high jump, 1st, long jump, and 3rd, triple jump), and Cameron Long (19th, shot put). Alongside these individual performances, Midlo's Girls 4 x 200 relay team, comprised of  Grace Jackson, Erin Babashak, Caroline Bowe, and Dasia Hardy, placed second. To top off these stellar performances, the Midlo Girls Indoor Track team earned the title of Holiday Track Champions in the team competition.
After the ladies showed their skills, the Midlo Boys team began their day of victory. Top male finishers for Midlothian include: Jay Burdett (39th, 300 meter dash and 23rd, 500 meter dash), Thomas Gray (8th, 1000 meter run), Max Etka (2nd, 1600 meter run and 1st, 3200 meter run), John Jennings (11th, 55 meter hurdles), Zach Moreau (18th, long jump and 7th, triple jump), and Brayden Staib (3rd, shot put). These incredible athletes contributed points to the team score, which resulted in a team victory. Overall, the Midlo Boys Indoor Track team won the team championship in this very important meet.
The effort put forth by Midlo's talented runners paid off, and the combined girls' and boys' scores earned yet another team championship for Midlothian High School. Sophomore Christina Mulroy remarks, "Liberty had an incredible track, and I am looking forward to dropping more time and qualifying for the State Meet." On January 12, 2018, Midlo's Indoor Track team will compete in the VTCA Invitational at the Virginia Military Institute.
About the Contributor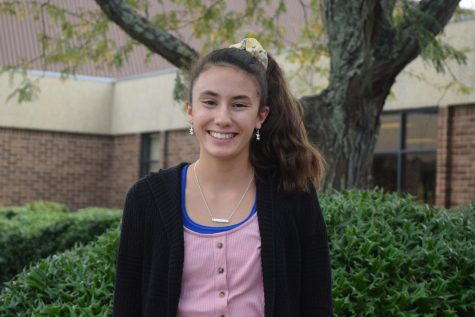 Katherine Krievs, Midlo Scoop Editor-in-Chief