Presley Green Rides Into Training
Midlo sophomore Presley Green has been an equestrian rider for 12 years. Her first riding experience, at the tender age of three, was on a horse named Buttons. Since her first lesson on Buttons, she fell in love with horses and has been riding ever since. She claims that she has had some "interesting experiences on horses." When asked about specifics on these interesting experiences, she spoke about a time when she first started competing. Her legs were too short to reach past the saddle, and her helmet fell in front of her eyes. These obstacles made riding a bit difficult; however, through her love of riding, she persevered and kept at it.
She loved riding so much that at the age of six, she got her first pony named Blue Sky. She gained new-found responsibility and learned how much work equestrian care entails. Her second pony, Pumpkin, taught her patience due to his habit of constant bucking and his reluctance to jump. Her adventures continued with her third pony, Jones, who kicked 10 year old Green in the chest, leaving her unconscious with quite a few bruises. Even this did not discourage her; in fact, it pushed her to continue to find the right pony for her, which led to her fourth horse, which was sweet, although she was an untrained mare and knocked almost every jump down. Green's current horse is a handsome Irish Warmblood named Liam Au Cappel. He stands at 16.2 hands, which is roughly 5.4 feet and is the most talented horse of all of her previous horses. They make a great team and have won almost every show since they joined forces.
Green is an event rider with three chosen disciplines. Her first discipline is dressage: a precise discipline in which the rider and horse perform movements following a specific pattern. The judges test both the rider and the horse on mastery skills, such as: flexibility, obedience, and balance. Her second discipline is cross country, an endurance and agility test over natural obstacles. The horse and rider are required to jump over 20 obstacles that include: logs, ditches, water hazards, with hills, and banks. This discipline can be very dangerous, especially at the high speeds the pair travel. Her last discipline is show jumping: a timed test for jumping fence obstacles at differing heights.
Horse shows last three days. Riders must memorize all courses and tests before the show. The shows require both the horse and the rider to be greatly trained, athletic, flexible, brave, and strong-willed. Green and Liam already exhibit each of these characteristics. Currently, she rides six days a week and competes in a show about once a month. She shows at a training level, which is 3 foot to 3'3 in competitions that give points to help qualify her for the American Eventing Championships. Riders from around the world compete in these events with eventual hopes of making it to the Olympic team.
Even with all of the work and effort she has already put into her riding career, she still wants more. Her goal in horseback riding is to compete in the Olympic games. To Green, going to the Olympics would mean "so much to [her] because it has been [her] dream since [she] was a little girl." She is pursuing her goal with vigor as she trains for hours to perfect her technique, so she and Liam can secure their spot in the upcoming AECs. Green is currently in the novice category of her training. In order to move up ranks or classes, she must compete in recognized shows against equestrians from around Virginia and its neighboring states.
In order to qualify for championships, she has to partake in five different shows and place 1-5 out of all competitors in each show. If she can accomplish this, she will make her way to Colorado for a week and compete again in front of more critical judges. With more consecutive high scoring, she may gain recognition from high ranking equestrian officials, which may result in potential scholarships or jobs in her field of expertise. After this year of competitions ends, she will return to training until the next championships arise.
If she continues to graduate a level each year, in five years, she will reach the highest level, the Rolex.  After achieving the qualifications of the Rolex League, Green will gain eligibility for Olympic team training, eventually participating in the world championships until the Olympics start again.
About the Writer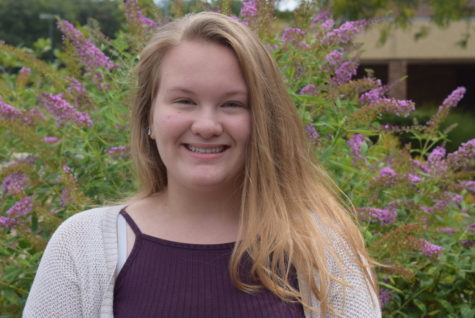 Samantha Johnson, Midlo Scoop Staff
Samantha Johnson, Class of 2020