Saying Goodbye to our Seniors
Senior Night: Girls Basketball, Boys Basketball, and Cheerleaders
Midlothian High School's senior class includes numerous dedicated athletes in various sports. Friday, February 10th marked the end of many of their sports tenures here at Midlothian. Before the boys and girls basketball games this Friday, each graduating senior received recognition in front of parents, teachers, and coaches.
The girls basketball team graduates 6 seniors, many of whom have participated in the basketball program for all 4 years. Seniors Amy Goodman, Tina Lindenfeld, McKenna Steele, and Elizabeth Vincent have all played 4 years with the Midlothian team, while seniors Jaylin Luster and Danielle McNeal finished their first years with the program. Before the game, each player handed her parents a flower commemorating their senior night and recognizing their parents' contributions over their basketball careers. Senior Elizabeth Vincent stated, "From rides to and from practice, cheering me on at games, and being my biggest supporters, my parents are just as responsible for this recognition as I am."
After the ceremony, the girls still had a game to play. They came out firing on all cylinders, knocking down nearly every 3-pointer early in the game. Their opponent, Huguenot, boasts arguably one of the best players in the state, senior Taya Robinson. Robinson has finished as a top 3 scorer in the area over the last two years, averaging nearly 26 points per game. Tina Lindenfeld and company, however, were too much to handle as they clenched the victory on their senior night 73-51.
The boys basketball team followed the girls game with recognition on their senior night as well. Seniors: Lucas Via, Brandon Demarco, Rico Coleman, Sam Maguire, Tyler Gregory, Chase Green, and Eric Picucci all received recognition. All the seniors except for Demarco, who has played since his 10th grade year, have been with the program for all 4 years. They each handed their parents a flower as well to commemorate the emotional event.
The men hosted Huguenot as well, whose lineup is bigger than many college teams as they start 3 players over 6'6, including center Eric Rustin who stands at 6'10. Sam Maguire and Brandon Demarco got the team going for Midlothian, hitting three 3-pointers early on. The Trojans went into the locker room tied 24-24; however, Huguenot's size overwhelmed the Trojans in the second half, resulting in a tough 50-32 loss.
The Midlothian cheerleaders had a special night as well. The cheer squad graduates 8 seniors, consisting of: Kylie Rykiel, Lara Douglas, Apryl Bradt, Kyelin Thrift, Jessica Martin, Grayson Levitch, Bryanna Jean-Louis, and Lana Figg. Even though the cheerleaders finished their competition season over a month ago, their energy on the sideline of the basketball games cannot be understated. Senior Tyler Gregory stated, "You gotta love how these girls come out here every night and bring the same energy. As a player, I couldn't be more appreciative." Through their tenures here at Midlothian, they have proved instrumental in the success of the cheering program. Their absence next year surely will be missed.
About the Contributors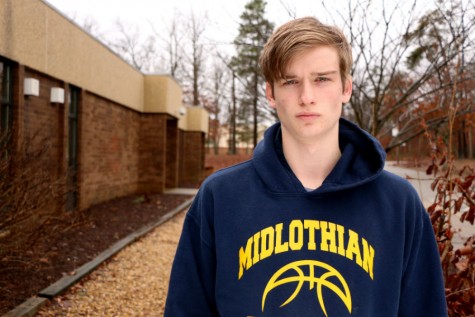 Lucas Via, Sports Editor
Lucas Via, Sports, Class of 2017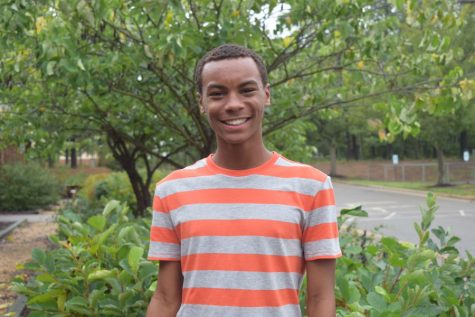 BJ Beckwith, Midlo Scoop Staff
BJ Beckwith, Class of 2018