Touring One School At a Time
Based on a true story, the student-organized play, 21 Chump Street, made its touring debut at Midlothian High School and Tomahawk Creek Middle School on January 26th and 27th. On the night of the 27th, the cast performed the play during Midlothian High School's annual Theatre Night. During the school day on January 31st and February 1st, Midlo students enjoyed the show during their English classes. This well-polished 15 minute musical was co-directed by Mrs. Katherine Baugher and senior Mikaela Gray. Junior Daniel Doh independently taught and edited the catchy music to the entire cast. In addition, the choreography was designed entirely by students. Junior Elizabeth Ferguson and sophomore Sydney Barefoot skillfully created and led the intense hip-hop dance routines, and Dani Granville and Michael Reedy designed the set.
21 Chump Street tells the story of a young, straight A student, Justin Laboyd, powerfully portrayed by junior Will Johnson. Justin explains to his interviewer, Lilly Cox, how he met an undercover cop who posed as transfer student. Naomi Rodriguez, played by sophomore Madison Jarvis, comes to the school to find the source of several drug deals that have been occurring in Park Vista Community High School. Madison Jarvis creates a stand-out moment for audiences when her character, Naomi, beautifully sings her story through the song, "One School." Completely captivated by her sophistication, Justin falls head over heels for her and sings the song, "What The Heck I Gotta Do." Will Johnson's strong vocals captivated audiences and left them singing the catchy lyrics as they left the show. 
Justin goes to his cousins, played by Garrett Redden, John El-Jor, and Gabe Fenyes. These three students completely blew away audiences with their vocals and dancing. After the cousins give Justin the drugs, he takes them to Naomi in class, reluctantly accepting money for the transaction, which seals his fate. This scene, which included catchy lyrics and an anxious moment during which the audience wondered whether Justin would indeed take the money, left a lasting impression on their audiences after a powerful kiss that sealed the deal. This drug exchange leads to the arrest of Justin and his cousins, whose lives are irrevocably changed due to bad choices. Midlo students left the production with praise for the cast and disbelief about Justin's downfall due to misplaced loyalty.
Midlo's Theater department strengthened its reputation once again after this memorable performance. The Midlo Theatre will fill again on February 9th, 10th, and 11th for the main stage production of The Man Who Shot Liberty Valance.
About the Contributor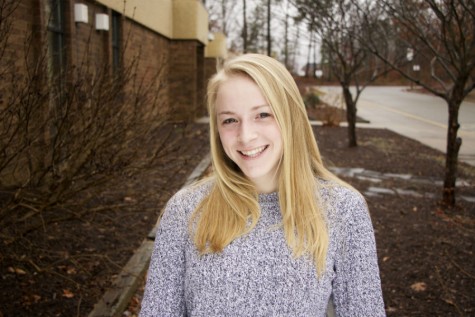 Emily Peachee, Midlo Scoop Staff
Emily Peachee, Class of 2017