Unplugged Games Cafe reinvents dining through board games
Review on Unplugged Games Cafe
The newest addition to the Sycamore Square shopping slip located on Midlothian Turnpike is a unique spot known as Unplugged Games Cafe. Originating in 2019, the idea for a new "board game restaurant" came about when three game-loving adults, Sean Gulla and his wife Katey Gulla, alongside Mark Roberts decided to act on their common love for gaming.
"We knew Richmond had such a rich gaming community, so we were kinda shocked that Richmond didn't have a gaming cafe already," Katey Gulla said.
And with that, the three got right to planning their future restaurant where fellow gamers could come to share their passion with others.
However, the group experienced a setback when their initial plans to open in March 2020 were halted due to the COVID-19 pandemic, forcing them to wait until conditions were safer. As capacity limitations and mandates began to be lifted, Sean, Katie and Mark decided it was finally time to open in August of 2022 after waiting two years.
The niche cafe offers guests the ability to choose from nearly eight hundred and thirty different games that range from trivia, minute-to-win-it, card and strategy style, as well as household classics that are most familiar.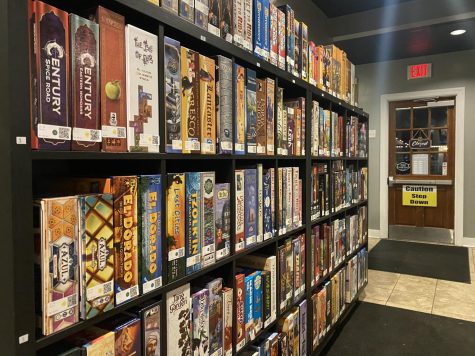 Guests dining Monday through Friday are able to purchase a game pass for only $6, which unlocks access to all the board games they want to play for the whole night. Those who stop by on the weekends will have to pay $8 dollars for a game pass.
Guests are invited to stay as long as they want and are encouraged to try as many games as they can. If someone is unfamiliar with a certain game, the cafe's staff is quick to help, taking time to read and explain the instruction book.
Additionally, Unplugged Games Cafe is also unique in terms of its menu as the establishment offers a variety of "snack-centric" meals.
"We deliberately avoided soups and pastas because of the sauces, which we were worried about getting on the games," Sean Gulla said.  
The cafe serves a variety of sandwiches, grilled cheeses, chicken tenders and burgers, all served with a side of popcorn which is available in three flavors. 
"The menu definitely has the game in mind," Katey Gulla said. "It's all things that are quick and easy to eat and it doesn't distract from the playtime."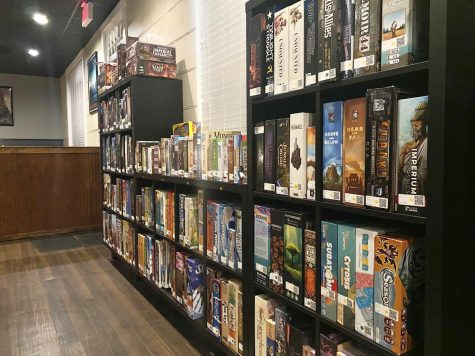 Open six days a week from 11 A.M. to 10 P.M., Unplugged Games Cafe makes it easy for game enthusiasts of all ages to live out their passion no matter their level of play. The establishment also hosts a Game Night every other Monday at 7 P.M. where guests can spend the night learning more-complex board games, allowing them to leave with an unforgettable experience and maybe even a new gaming buddy.
Leave a Comment
About the Contributor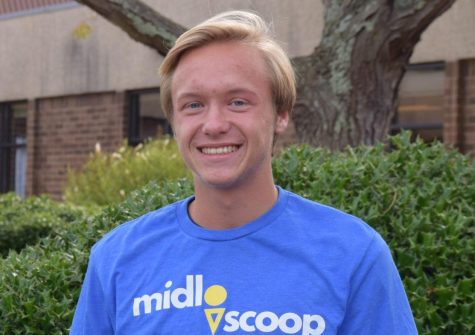 Kyle Reeder, Multi-Media Editor
Kyle Reeder, Class of 2023

Kyle Reeder has been on staff for four years and is the Multi-Media Editor. Outside of school, he runs cross country and...