Message from Dr. Abel
Midlo Principal's Message: November 30, 2021
Greetings, Midlothian Community.  This is your principal, Shawn Abel, with your weekly message. I hope everyone enjoyed their thanksgiving break and you were able to catch up on some much needed and deserved rest and time with family.  And now we start the countdown until winter break – just 12 school days (yes, you read that correctly).
Please read below for several important and timely updates!
Dismissals
Please note that moving forward (starting on 12/2) only senior drivers will be dismissed a few minutes early from school, with all other students being dismissed at 3 P.M.  The multiple earlier dismissal times for all students was only intended to be a temporary measure to alleviate the transportation issues and traffic concerns at dismissal.  While we recognize we continue to face significant traffic in the morning and afternoon, it's important we dismiss our students at their regularly scheduled time.  
Remember, you can always delay your pick up time in the afternoon to 3:15 / 3:20 P.M. to avoid the heavy traffic.
If you wish for your student to return to riding a school bus, please follow the directions below.
Open ParentVue – Click Student information, and then click on the edit information button.  

Locate the transportation information section – change the type in the A.M. and P.M. to bus.  Save your changes.
Please allow transportation approximately two weeks to update your student's transportation status to ensure they are routed correctly.
Please contact our front office at 378-2440 if you have any questions.
RISE UP Assembly
As previously shared, Midlothian HS hosted our RISE UP Assembly this past Monday, November 29, 2021.
We recognize that the assembly was impactful to students in a variety of ways and the content was challenging.  We hope our students and faculty continue to reflect on ways they can support themselves and one another to make Midlo an inclusive and kind environment for everyone.
Please remind our students to reach out to their school counselor if they need additional support.  Also, the links below provide hotline phone numbers for county residents, which includes our students, who might need more timely assistance and support.
Click here to view the Community-Based resources for students and families in Crisis.
Click here to view additional resources available for students and families.
Students – if you have not had the opportunity to complete the assembly feedback form, please use this link
Advanced Absences
Students who know in advance that they will not be in attendance at school for any reason are encouraged to prearrange and complete assignments with their teachers.  Advanced Absence forms are available in the main office.  Advanced absences require administrative approval.
Athletics
Please check below for our athletics update –
Basketball: Tuesday, Nov. 30
–  JV Boys Basketball vs. Hermitage- 6 P.M. The JV Girls Game has been canceled.
– Varsity Girls & Boys travel to Hermitage- 6 P.M. /7:30 P.M.
– Tickets for Varsity Boys and Girls 
Winter Sports pictures at 3:15 P.M.: Thursday, Dec. 2nd
– JV & V Girls Basketball vs. Manchester- 5:45/7:15 P.M.
 Tickets are available starting at 1 P.M. the day of the game until the end of the game. 
Tickets are $6 and can be purchased by visiting this website.
Friday, Dec. 3rd
Boys Lacrosse Sign Ups during all Lunch Blocks!
Girls Volleyball EOY Dinner-6 P.M. (CC)
Congratulations
Congratulations to our monthly award winners –
Students of the Month:          Emma Crisp and Heather Spichiger
Employee of the Month:        Loretta Speller
Holiday Performance
The Midlothian HS Orchestra/Guitar Holiday Concert will take place in the Auditorium on Wednesday, December 15, 2021, at 7 P.M.  No tickets are needed but please wear a mask and be prepared to practice social distancing.  
2021-22 Graduation Ceremony
Mark your calendars for 7 P.M. Monday, May 23, 2022, at the Siegel Center.  More information to share as the date nears.
Several college application deadline dates
Several college application deadline dates are approaching and we want to remind you to submit transcript requests in Parchment as soon as possible.
Requests submitted by the dates below will be processed to meet the corresponding deadline.
| | |
| --- | --- |
| Application Deadline Date | Deadline to submit request in Parchment |
| December 1st | ASAP |
| December 15th | December 1st |
| January 1st | December 3rd |
Please keep in mind that transcript requests will NOT be processed on weekends or over winter break.
Out of the loop? Check the Scoop!
If you are interested in advertising in the Midlo Scoop, please contact Lisa Martin Hudgins at [email protected].
MABA Fundraiser
Just in time for the holidays……Booster Club is hosting a HUGE SPIRITWEAR store for the perfect holiday gifts and to raise necessary funds for our Trojan sports teams! From all-season clothing, backpacks, SENIOR T's, we've got quite a store in store for you!! Please order with expedited shipping in the next week for holiday delivery. GO MIDLO!! And thank you for your support!
All-Region/All-State Teams and Honors
Midlo is on the mark!  Congratulations to all our players & coaches who have contributed to a fall season of athletic achievement.  Click here for a list of our recipients.  
Take the Plunge
Click here to read how you can support our Champions Together program by either taking the Plunge or sponsoring Team Midlo as they take the Plunge.
Library Fundraiser
It's time to order your Midlo tote bag, backpack tag, or glitter ornament to support the library. They make great holiday gifts or a treat for yourself!  Go to bit.ly/mdhsdesigns to see all the options and bit.ly/mdhskeepsake to place your order by December 10.  Thank you for supporting the Midlo Library!
Chesterfield Technical Center Opportunities
The Chesterfield Technical Center (CTC) is a wonderful opportunity for our students.  Students who are enrolled in a program through the CTE are often some of our most engaged students.  They can earn a license, certification and/or college credit before they graduate in the career field of their choice!
The CTC has courses for everyone and rising 11th and 12th graders can apply soon! Applications open January 17 and an Open House at both campuses is scheduled for December 4.  
Ninth grade students can also attend the open house to get excited about future opportunities, but you can not enroll until your sophomore year.  
Watch this Video for more information!
Financial Aid Workshop Slideshow/GRASP Appointments
Were you not able to attend last week's Financial Aid Workshop?  Presenter Belinda Hill, Associate Director of Financial Aid at the University of Richmond, has made her slideshow available HERE.  Questions about submitting the FAFSA or other college funding concerns can be directed to Midlothian's GRASP Advisor, Cheryl Edlow, by requesting an appointment through the following link:  https://calendly.com/msedlow.
MAPS Testing (Only read below if your student is taking Algebra 1, Algebra 2, Geometry, or English 9 or 10)
Mark your calendar for Winter MAPs testing the week of December 6 – during class time.  Only students in the classes listed below will test.  Students should check with their teacher if they are unsure of whether or not they need to test.
Reading MAPs testing (English 9 and English 10 students only) – Monday and Tuesday, December 6 and 7  
Math MAPs testing (Algebra 1 and 2 and Geometry students only) – Wednesday and Thursday, December 8 and 9
ASVAB Testing
Midlothian HS will offer the ASVAB (Armed Services Vocational Aptitude Battery) to any interested seniors on Friday, December 10 – during the school day.  Officials from Ft. Lee will administer this free three-hour assessment for students interested in the military as a career and for those who are not.  Taking the test gives the student access to a menu of career information . . . and scores are good for two years – if a student decides to pursue a career in the military later.  Watch for registration information after the Thanksgiving break.
Attendance
We have prepared attendance notes that you can download and fill out for your student's tardy, dismissal, and absence.  Click here (or visit https://bit.ly/MidloNote).   In addition, some friendly reminders for parents and students are as follows.
Notes for dismissal, absence, or tardy:
Should be dropped off at the attendance office upon arrival at school, or between the first block and Midlo morning.  
If someone other than a parent or guardian is picking up your child for an early dismissal:
We need that in writing as students can be dismissed only at the request and authorization of the parent or legal guardian.  

Students shall not be released during the school day to any person not authorized by the student's parent or legal guardian.
Students returning to school from an appointment:
Are required to check back in with the attendance office upon arrival.
Students who become sick at school:
Must request to see the nurse. Students should not text home to be picked up before seeing the nurse.

The clinic will contact the parent if pick-up is needed. The school must document any student leaving school ill.
Questions or notes regarding attendance can be sent to [email protected] or call 804-378-2440 ext. 4127.
Attention Seniors
Did you miss the opportunity to order your Cap & Gown?  Don't stress, you can still order graduation items, including your cap and gown, by visiting Herff Jones' website.  
Leave a Comment
About the Writers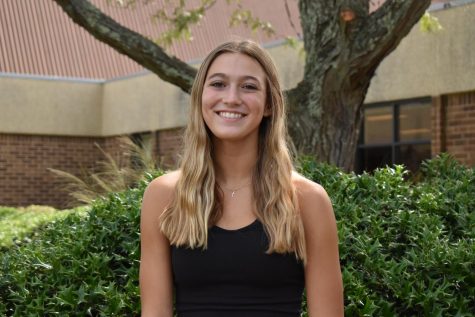 Lilly Moidel, Midlo Scoop Staff
Lilly Moidel, Class of 2024

Sophomore Lilly Moidel has been on staff for two years, and enjoys writing about sporting events, and stories that involve...