Midlo Girls Varsity Volleyball crowned 5C Regional Champions
Midlo defeats the Godwin Eagles during 2021 5C Regional Championships
For the first time in school history, the Midlo Girls Varsity Volleyball team secured the title of  Regional Champions in the 5C Division on November 15th, 2021. During the loud, fast-paced game against the Godwin Eagles, the Trojans emerged victorious with a score of 3-0. The game not only marked a monumental achievement for the program but also secured the team a spot in the state playoffs.
The Godwin team centered around only a few select players whom Midlo took into consideration when preparing for the game and crafting their plays. With this in mind, the game plan for the Trojans was to triple block their opponent senior Kaitlyn McNeel as ninety-five percent of their sets regularly go to her. At first, this proved very useful because the front row was able to get in a few blocks, slowing the hits down enough for the passers to set the ball in the air. Though the Eagles gradually adjusted to the triple block play set in motion by tipping and putting the ball short, the Midlo defense, headed by seniors Heather Spichiger and Ashley Sowers, was able to keep them in check. 
Much of the game relied on Midlo's serving and serve receiving abilities, which was important to take note of since Godwin's gym had a much lower ceiling compared to Midlo's, which the team was used to. The Trojans, who served consistent hard balls, caught the Eagles off guard with this technique. The serving was headed by sophomores Hannah Ball and Alex Mazulewicz, as well as Spichiger and junior Halle Phelps.
Despite the Eagles having trouble with the ceiling height, they still managed to send the ball sailing over the net more often than not. However, with many "free ball passes" coming over the net, the Trojans were given a chance to run many different plays that showcased their hitters' strengths. The setters, Mazulewicz and junior Tatum Evans, collaborated with their hitters in between sets to determine the different plays that would take place in order to maximize their playing time.  
By the time the game was over, the score marked a huge win for the Trojans. To solidify their achievement, a poster will be hung in the main gym and the team will also receive a gold trophy.
"It was a great opportunity, not only for us to win regions, which we haven't done in a really long time, but beat Godwin for the second time in one season," junior Virginia Zalinski said.
Even though the team's journey came to an end during the first game of the State Tournament, their season overall represented one full of breaking records and making cherished memories. 
Leave a Comment
About the Contributor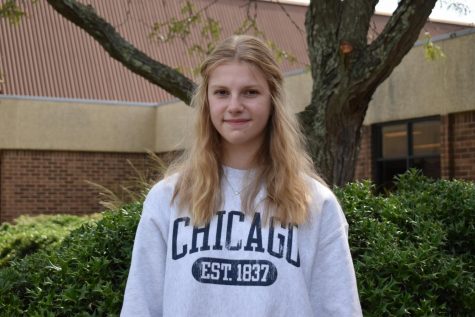 Alex Mazulewicz, Midlo Scoop Staff
Alex Mazulewicz, Class of 2024

Sophomore Alex Mazulewicz is spending her second year on Scoop this year, and is flexible to writing a variety of stories. ...