Exploring Virginia's vibrant vegan culture at VegFest 2021
Midlo students and teachers volunteered this year at VegFest 2021, Richmond's most well-known vegetarian festival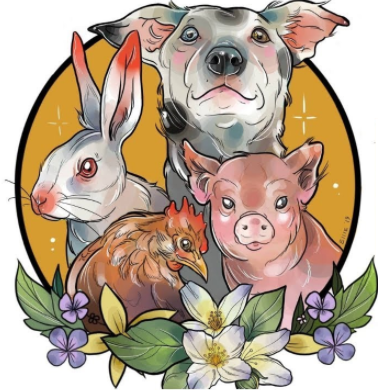 The leaves crunch under your feet, a breeze sends a chill down your spine, horror movies take over your TV; October has arrived, and receives a warm welcome by Richmond's vegetarian community at the 17th annual Richmond VegFest. The Richmond VegFest, held on October 2, 2021 is a celebration of the vegan diet. The events promotes this as a positive and easy lifestyle that is obtainable to all. The VegFest features live music, guest speakers, artistic activities, and small businesses selling items such as handmade jewelry, crystals, and ethically-manufactured clothing. However, the usual star of the show is the food vendors.
Whether it be vegan alternatives, or businesses reinventing your traditional food staples, VegFest is known for the variety of food offered at the festival.
The food vendors this year are as listed:
1115 Mobile Kitchen is a food truck serving up plant-based soul food

Photo by: veggiefest.org

821 Cafe serves up traditional American eats with many vegan options

The Bumbling Bee offers an extensive menu of delicious vegan comfort food

NoBull Burger carries unique plant-based burgers

NuVegan Cafe is a casual, entirely vegan fast-food restaurant

Southern Spud serves potatoes in all sorts of unconventional, but delicious ways

Chaotic Good Tempeh prides itself on its meatless protein options

Indian Delights serves authentic Indian indulgences

Loving Hut Vegan Cuisine provides an extensive vegan menu with Asian accents

Phal's Cafe is well-known for its warm soup and vegetable noodles

Thai Top Ten offers fresh Thai food with many vegetarian options

Intergalactic Tacos offers "the best grub in the galaxy!"

DeLuca Gelato offers authentic, made-from-scratch dessert options

Empowered Plant Cakes offers a variety of vegan confections

My Vegan Sweet Tooth sells iconic vegan sweets

Miyoko's Creamery prides itself on its incredible dairy-free pizza

UnMoo Foods sells sustainable nut-based cheeses.
Most of these businesses and restaurants operate straight out of Richmond, providing a vibrant vegan culture present in Virginia all year round! 
VegFest, although sponsored by Vegan Action, Vegetarian Society of Richmond, My Vegan Sweet Tooth, Hang Space, and Natural Awakening, is largely reliant on its group of (mostly) vegan volunteers. This year, Midlo's own Dr. Todd Starkweather served as the volunteer coordinator, bringing along some of his students, all of whom were volunteering at the VegFest for the first time. However, Dr. Starkweather is far from new to the VegFest scene. In 2011, Starkweather had recently become vegetarian and was looking at a way to become involved with his girlfriend, when he stumbled across the Richmond Vegetarian Festival, which is now Richmond VegFest. After about a decade of volunteering at this event, Starkweather finds spending his time at the VegFest as a volunteer incredibly redeeming. "It's quite worthwhile to know that 5,000-10,000 people enjoyed this event, in part, because of you," Starkweather says.