Green Ghost guarantees a vegan first approach
Restaurant Review on Green Ghost Pizza
Officially opening its door to the Midlo community on Tuesday, March 23, 2021, Green Ghost Pizza welcomed eager patrons looking to indulge in the eatery's unique menu. A proud partner of Sugar Shack Donuts and Luther Burger, the newest pizza establishment offers yet another savory cuisine to the mix. Working to put vegan food in the forefront, the popular spot specializes in fully vegan ingredients and cooks all dishes using dedicated equipment. However, Green Ghosts's inclusion of "regular" items prepared separately gives individuals of all dietary preferences corresponding alternatives that are sure to equally satisfy cravings.
Catering to a variety of different taste buds, Green Ghost provides patrons with a diverse menu that includes dairy-free and gluten-free options. As the focal point of the spread, guests can either choose from an existing flavor combination or customize their own individualized pizza, having the ability to pick from a wide range of fresh toppings to craft their own mouth-watering creations. No matter the route that a customer chooses, all orders are served as 14-inch pies, so there is plenty to go around. Green Ghost also delivers on other finger-food classics, including garlic knots, chicken tenders, popcorn, wings and mozzarella sticks. For the full experience, indoor and outdoor seating is now available as the state of Virginia has recently lifted some of its existing COVID-19 restrictions, garnering an all-inclusive and relaxed environment. Not to mention, Green Ghost's gracious hospitality and dependable service contribute to that much more of an enjoyable outing for both young families and large groups of friends alike. 
In an effort to suit the needs of every customer, Green Ghost implemented in-person and online ordering services, as well as curbside pick-up and delivery. To make the whole process even more convenient, the establishment operates out of the same location as its partners, both of which also abide by a vegan first approach that takes into consideration any dietary restrictions. Therefore, guests have the ability to pick up a donut or two from Sugar Shack and grab a milkshake from Luther Burger all in one trip if they so desire.
With only a week under its belt, Green Ghost has already experienced a boom in business with patrons from near and far traveling to the new hotspot. Located on Huguenot Road, the distinctive feature represents an accessible and affordable option that never fails to push the boundaries pertaining to the world of innovation and accommodation.
For Green Ghost Pizza's menu, click here.
Hours: 11:00 a.m. – 8:00 p.m. Tuesday through Saturday
Leave a Comment
About the Contributor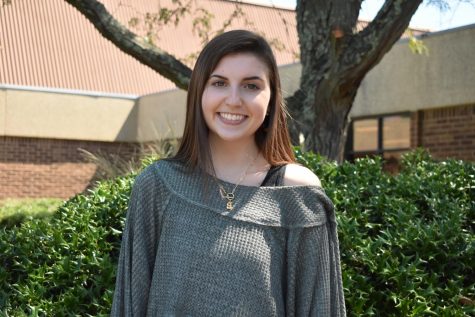 Bridget Tracy, Editor-in-Chief
Bridget Tracy, Editor-in-Chief, Class of 2022