Message from Dr. Abel
Midlo Principal's Message: February 9, 2021
Greetings, Midlothian Community. This is your principal, Shawn Abel, with your weekly message. 
I know we are all eager to learn when students will return for face to face instruction. Please be certain to read the email sent from CCPS earlier today (3:00pm) for updates and be on the lookout for an update tomorrow. Additionally, Midlothian HS will share a short form tomorrow that we need ALL parents to complete so we can update their student's return to learn status; including transportation information.
From the Counseling Office
It's time to finalize 2021-2022 academic schedules. Counselors will meet virtually with their students on the following dates. Please note the dates are subject to change due to inclement weather or other scheduling modifications.
Feb 8-12 – Rising seniors via English 11 classes
Feb 15 – 26 – Rising juniors via HPE 10
March 1 – 12 – Rising sophomores via HPE 9
Concurrent Enrolled Only Students – March 15 – 26
**Dates are subject to change due to inclement weather or other schedule modifications.**
From the Career Center
Seniors: considering John Tyler CC during the 2020-21 school year?  Attend a joint (virtual) meeting with Jordan Meadows, JTCC representative and Midlothian's GRASP Advisor, Janet Andrews on Wednesday, February 24 @ 10:45am. Meeting link shared later. Hear about the range of programs and training  that John Tyler offers and learn about funding this education.  John Tyler's

Foundation Scholarships

program offers 100+ scholarships for incoming students – and the application is open NOW. In order to be eligible for consideration, students must have completed a FAFSA form.  Ms. Andrews can assist with this process.  

GRASP

, a free resource assisting Richmond-area families, offers several scholarships to seniors who meet with their school-based Advisor (virtually or in-person). Make an appointment with Janet Andrews, Midlothian's GRASP Advisor, using this link:

https://calendly.com/midlothian

.  These scholarship applications (for the Last Dollar Scholarships and Community College Pathways Scholarships) are now live on the GRASP website and accessible

HERE

.  

FAFSA (Free Application for Federal Student Aid) form: complete the form which is available NOW. Deadlines for many Virginia schools are February 1 or March 1.  Apply here:

https://studentaid.gov/h/apply-for-aid/fafsa

 

Midlothian Scholarship List

: bookmark this list to find scholarship opportunities for graduating seniors. Our list is slim right now but will gradually expand this winter. See a recent addition:

Alpha Phi Alpha Fraternity, Inc., Rho Iota Lambda Chapter and The 423 Fund Scholarship Program

offers six $1,500 scholarships to CCPS graduating seniors. Click on the link for the application and scholarship eligibility.

Scholarships.com

is a free and nationwide scholarship search engine. Here are links to

scholarship opportunities

for African-American students from the search directory.

And, if your student is still looking at career pathways, here are 2 online planning tools that may assist:
Career Coach Online

– sponsored by John Tyler CC. This program offers assessments that can link to careers and training based on student interest.

Virginia Education Wizard

– sponsored by the State Council for Higher Education in Virginia (SCHEV). This resource offers a range of career planning tools including steps to pay and prepare for college.
Black History Month Updates
Don't forget to check out our Black History Month website to learn of all the exciting things we are doing at Midlo to celebrate Black History.
Congratulations to last week's trivia winner – Rand Qasem!
Fundraisers
Save the Date! Wednesday, February 24, 4pm – 7pm, IB Spirit Night at the NEW Chicken Fiesta at 13350 Midlothian Turnpike. Call ahead to carry out or order through their convenient Drive-Thru Window! Don't forget to mention Midlo IB! Celebrating Our 2021 Seniors, Spirit Night Fundraiser at BELL GREEK RESTAURANT. Thursday, February 25th from 4pm-8pm. Order dinner, take out only…say you are with Midlothian High School's Celebrating Seniors, and 25% (!) of the proceeds will be returned to the Celebrating Seniors Venmo account for a huge event planned in March. Anyone can order, share with family and friends. 11307 Polo Place, Midlothian, order online or call www.bellgreek.com 804.897.9400  Any questions, reach out to Stacey Atkins at [email protected]
A Message from the Midlothian HS PTSO
The PTSO will hold the February monthly meeting virtually. If you would like to attend on February 10th at 7:00 pm please contact us at [email protected]. Don't forget to enroll in the Community Rewards Programs. These local community partners donate a percentage of anyone's purchases to the MHS PTSO and reduces the need for additional fundraising.  
      Kroger Cares. Go to

www.kroger.com/communityrewards

and follow the steps provided to create an account and link it.  Enter 82948 in the "Find an Organization" search box.

      Publix Partners. Go to

www.publix.com

and Log in or Sign Up. Select "My Account" and select by scrolling the right arrow to "My Publix Partner". Enter "Midlothian High School" in the search box, select MHS and then select "Update".

      Amazon.  Offers 0.5% funds on eligible purchases to nonprofit organizations through the Amazon Smiles program. Amazon customers can register by logging onto

smile.amazon.com

. Enter your Amazon account information and then search Midlothian High School PTSO to select the organization.
Please join me in congratulations our Midlo's Monthly All-Stars
January Students of the Month  (9th/10th grade): Mary Carson! Mary consistently puts in the hard work to achieve success and pushes through the challenges associated with virtual learning. Her assignments show strong dedication to learning, great organization skills, and attention to detail. She is incredibly polite and responsible. Her peers also benefit from her insightful contributions during discussions.
January Students of the Month  (11th/12th grade): Ashley Jennings! Ashley is ALWAYS exemplary and exceeds the standard. She consistently emerges as a leader among her peers and she is incredibly personable, and incredibly bright. She is always willing to engage and have discussions, even over the virtual meets. She is a really conscientious worker who is always present for our voluntary skill builder sessions on Wednesdays. She brings a positive attitude and lots of energy to each class.
January Employee of the Month:  Tina Walke! Tina is always willing to help. She goes above and beyond and has a great can do attitude. She volunteers her time after 2pm for the betterment of the Midlothian Community. Although assigned to the front office, Tina operates as the IB Secretary as well. She is often in counseling covering absences and helps with all facets of testing short of proctoring! Tina has been a tremendous help in tracking students who received help from teachers on asynchronous Wednesdays.  
January Community Member of the Month: Leann Ownings and Stacey Adkins! Leann and Stacey are spearheading the parent group that is supporting the Class of 2021. They have organized the back to school parking lot/bus loop decoration back in November, the ongoing senior raffles (with amazing prizes!), and other (surprise) events to boost senior spirit. Their work is truly a demonstration of the community support that makes Midlo so special, and they are bringing smiles to the faces of our seniors!
Midlothian Virtual Student Union
Midlothian High School is excited to announce the first of two Poetry Slam events through the virtual Midlo Student Union! On Feb. 12th and 19th students are encouraged to join Midlo poets as we continue to celebrate Black History Month with our first ever Poetry Slam! Use the google meet code, MidloStudentUnion, to join this Friday, between 10:50am – 11:50am. Come to listen, come to participate, come to lend your voice and be heard! Don't forget to visit our Black History Month page to see all the ways we can celebrate the Strong Roots and Amazing Achievements of African Americans.
VHSL Region 5B Forensics Tournament
Congratulations to Kat Moser and Emma Crisp! They both placed in their events at the VHSL Region 5B Forensics tournament: Kat placed first in Serious Dramatic Interpretation and will advance to the Super-Region 5AB tournament later this month, and Emma will be the second alternate from the region in Extemporaneous Speaking!  
Athletic News
Students keep reading Morning Announcements to keep in the know on team tryouts, conditioning and more!!!  Congratulations to our teams: Swimming. Great job to our Boys & Girls Swim Team on their Region 5B wins! The Boys Team are Region 5B Champs and the Girls Team are Region 5B Runner-Up. They move on to the VHSL Class 5 State Meet on Friday at Oak Marr. JV Boys & Girls Basketball Season has ended. Great Job team!! Both our varsity boys and girls basketball teams continue into the semi-final round of the Region 5B Basketball Tournament. The  Midlo HS. Girls will play Matoaca HS-7:45pm and Boys Basketball will play Manchester HS-7:30 pm. Check out the fliers below to watch the games online. Region 5B Indoor Track Championship- Feb. 16th (2pm) at Atlee HS. Congratulations to our Wrestling Team on the Region 5B Championship on Saturday at Matoaca HS. The Region winners (A. & K. Berry, A. Schwartz (Alaska), C. Gregory, C. Lilly, R. Painter, J. Foldes) will move on to the VHSL Class 5. State Tournament on Feb. 18th-Virginia Beach.
Girls Volleyball Tryouts
Tryouts start on Monday, February 15th through Thursday, February 18th in the main gym. We are limited to 10 player "pods" per court. The initial tryout schedule will be varsity running 3:30-5:00 each day. JV will be 5:15-9:15 each day in 4 separate one hour blocks. We will be using Signup Genius for players to sign up for these blocks soon. Please contact Sherman Chung for any questions [email protected]
Field Hockey Conditioning
Mon-Thursday from 3:30-5:30 p.m. in the back practice field near the tennis courts.  
Dance Team Tryouts
The Trojanettes are rescheduling our Tryout date to this Wednesday, the 10th from 330p- 6p in the Black Box Room.
Closing
Once again, please be on the lookout for updated information and be certain to respond to our Return to Learn survey as soon as possible once shared. The sooner we have this important information, the better we can plan and support all our students. Thank you for your ongoing support and as always, Go Midlo!
Previously shared info
Google Meet Update
Great news – the school division has a form students can now complete to have their google meet name updated to reflect a preferred name. Here is the link to the page that includes the form and directions.
https://mychesterfieldschools.com/frc/docs/friday-update-jan-29-2021/#6-toc-title
CCPS Online Registration for the 21-22 school year is now open.
Please note there has been an "additional course fee" added to next year's CCPSOnline courses. The additional course fee is a fee for any course being taken over the maximum number of courses a student can take in the brick and mortar building. For example, if a student is taking all 7 courses in the building, then taking the Health/PE course as an 8th course…the fee will be required. It is for anything beyond the full schedule of classes. The fee is $325 per full credit, and $165 per .5 credit. For additional information or to register, please visit https://mychesterfieldschools.com/ccpsonline/
Essay Contest
The Office of Congressman Donald McEachin is proud to announce that their annual Black History Month Essay Contest is now open for submissions from middle and high school students! Students that would like to participate in the 2021 Essay Contest should write about a current community leader or activist whom they believe will become an important figure in Black history. Students should submit their completed essays with name, school name, grade level, and home address to [email protected] no later than February 15, 2021.
 Senior Information
Graduation Update (attention: seniors)
Several parents have contacted me asking if we have any updates regarding graduation. I completely understand everyone's desire to know when and how students will be recognized at a graduation ceremony this spring. Unfortunately, I don't have anything specific to share at this time.
At this point we plan to host a graduation ceremony/ceremonies based on what the Governor will allow for large group functions.We are hoping to receive updated guidance over the next few months. For planning purposes, we plan to host the ceremony/ceremonies the week of June 7th. I wish I could provide more details at this time.
Granville P. Meade Scholarship
The Granville P. Meade Scholarship provides financial assistance to students who have achieved academically, but who are financially unable to attend college. The Granville P. Meade Fund provides scholarship awards to worthy and financially disadvantaged Virginia high school seniors to attend one of Virginia's public or private colleges or universities. We are pleased to share this scholarship opportunity with you. If your student meets the eligibility requirements, please encourage them to apply the deadline for submission is MARCH 5, 2021. The link to the online scholarship can be found here!
Feeling out of the loop? Read the Midlo Scoop!
Check out our online student newspaper, the Midlo Scoop, for coverage of all things Midlo. From sports to fine arts to the latest decisions from the School Board, we've got you covered. Make sure to bookmark it to stay current on Midlo happenings. If you are interested in advertising in the Midlo Scoop, please contact Lisa Martin at [email protected] We appreciate your continued support!
2019-2020 Yearbook Information
The 2019-2020 Yearbook is now available for pickup. It can be picked up from the Main Office during normal business hours Monday-Friday from 8-4pm. Students please perform the required health screening before coming to the school. Once at the school, please social distance, wear a mask, buzz the front office and tell us your name and we will bring it to you. Thanks!
Nominate a teacher for an REB award
2021 R.E.B. Awards for Teaching Excellence – now accepting nominations
The R.E.B. Awards for Teaching Excellence recognizes public school teachers who stand out among their peers. The R.E.B. Awards provide opportunities for area public school teachers to continue their own love of learning as they pursue adventures of a lifetime. Please consider and take a few minutes to nominate an outstanding Midlo teacher for this prestigious award. Through a nomination process, approximately 15 outstanding teachers are selected each year to receive grants between $5,000 and $15,000 to support professional development activities. Previous award recipients have earned graduate degrees, climbed mountains, traced their ancestors and met peers from  around the world – all to reignite their own passion for learning and to pass it on to their students. To see a list of the 2020 Chesterfield County Public Schools honorees and to learn about each of their professional development opportunities, click here. To begin the online nomination process, visit www.cfrichmond.org/REB. The nomination deadline is Feb. 22 at 5 p.m.
Bravo Awards!
Do you know a Midlothian HS graduate who has gone on to achieve greatness or make a significant contribution in some form? If so, then please consider nominating a Midlo alum to be recognized as a Bravo award winner. A Bravo award is like the Oscars (minus the quirky speeches), designed to recognize the best of the best among Chesterfield County Public Schools' graduates. Help me add to the display of Bravo recipient banners outside of our Auditorium by nominating a deserving Midlo grad for this prestigious award. I'm confident we have some Midlo graduates who are athletes, entertainers, doctors, lawyers, entrepreneurs, and more, who should be considered for a Chesterfield Bravo award.  Click here to submit your nomination.
Chromebook Support
If you need a Chromebook or assistance with your Chromebook, please visit our CCPS Chromebook basics site for details and locations. For access to the site click here. Please be sure to revisit this website as the school division will update this site periodically.
Internet Connectivity Issues?
Students who need home internet access and participate in the National School Lunch Program can register for information from Comcast for free internet. Visit learnfromhome.ccpsnet.net to register.  Families will need to complete the process with Comcast to receive this service. Please call the Midlothian HS front office (804-378-2440) if you need internet connectivity support, but do not qualify for the National School Lunch program.  We will add your name to a need list, assess your situation, and provide the best support available.
How to have messages sent directly to your student
Can you include this part of my weekly message in our announcements again for two days?
Do you want to be in the know? Well, if your parents are not sharing the information they receive from our Midlo messages, then sign up now to receive the messages directly to your own phone and email.  To do so, simply complete this form or visit bit.ly/MidloMessages, to receive messages directly to your mobile phone and email. Remember, students do not have a school-issued email with their id#@ccpsnet.net.  That address only allows access to their google drives and related resources.
Ask around, these messages are all the rage, don't be left on the outside looking in. Sign up now!
Did your student miss an announcement?  
Fear not, our morning announcements can be found on our school website – just scroll down to the section titled, "Morning Announcements". For example, you can learn very important information, such as, today is National Homemade Cookies day.
Leave a Comment
About the Writers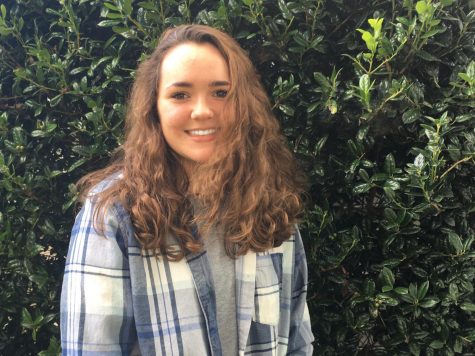 Callen Ziegler, Midlo Scoop Staff
Callen Ziegler, Class of 2023