Midlo congratulates local UPS driver for his remarkable service
Anthony Gaskin nationally recognized for his superb service to Midlo
Throughout 2020, the term "essential worker" has been used with increasing frequency. From medical professionals to grocery store employees, essential workers have gained a new level of respect. In a world where next day delivery has gone from a "want" to a "need," delivery drivers have risen to hero status.
One UPS driver, Anthony Gaskin, has delivered packages to Chesterfield County for over 16 years, sometimes delivering over 180 packages a day.  Throughout the pandemic and the Christmas season, Gaskin was entrusted with a record number of deliveries, sending off each one with a warm smile and a kind wave.  Noticing his dedication to serving the community, Hallsley resident Patty Friedman began planning ways for the neighborhood to give back to Gaskin.  After sending out an announcement on Facebook, Friedman received lots of positive feedback from her neighbors, excited to plan a surprise for their delivery angel.
December 15th marked the special day, where over one hundred Hallsley residents gathered on the street, eagerly awaiting the arrival of Gaskin.  Excitement was in the air as a large UPS van turned the corner, revealing Gaskin with an enormous smile. 
"I wasn't quite sure what was going on at first. I felt like my heart was about to jump out of my body," Gaskin said.  As the van slowly rolled down the street, residents held up loving signs and cheered for the driver.  As Gaskin neared the end of the road, he parked his van and got out to thank the residents.  He was greeted with smiles and several gift cards. 
"To tell you the truth, I'm not used to that kind of attention, so it was a total surprise.  You could say I was in shock, really. My heart was just overjoyed."
Just days after the event, news sources discovered pictures and videos of it and the story soared to national attention.  News outlets such as ABC, NBC, CBS, and Good Morning America celebrated Gaskin for his remarkable service in the delivery industry.  These headlines even caught the attention of then President-Elect Joe Biden, who incorporated the videos into his Presidential Inaugural Special.  In his 40 second segment of fame, Gaskin thanked the American people for the amazing opportunity, spoke about frontline workers, then handed the show over to rock band singer Jon Bon Jovi. 
Fortunately for his customers, Gaskin continues to deliver packages and sprinkle kindness along the way. "I like to remind everybody that a lot of people out here are a lot less fortunate than we are. Reach out and try to help somebody else during this [time]."
Thank you for all of your joy and service, Anthony!
For more information, click here.
View Comments (1)
About the Contributor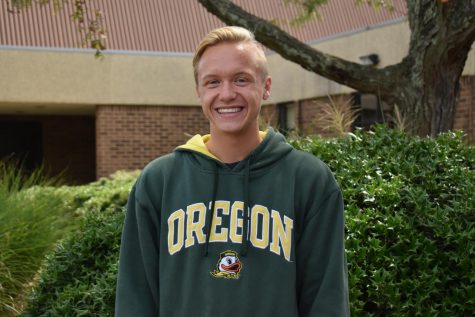 Kyle Reeder, Associate Editor
Kyle Reeder, Associate Editor, Class of 2023