The Queen's Gambit restores the classic game of chess
Review on: The Queen's Gambit
Originally released in October 2020, the Netflix original series The Queen's Gambit entered the public eye during the first week of December and immediately rose to popularity. The fictional series was produced by American screenwriter Scott Frank and Scottish screenwriter Allan Scott. The production, which took over 30 years to create, originally was intended to be an extended movie but was transformed into a mini-series instead. The series focuses on the life of child prodigy Beth Harmon, played by Anya Taylor-Joy, and takes place in Lexington, Kentucky during the Cold War period of the early 1960s.  Although based in Kentucky, the majority of the filming was shot in Ontario, Canada and Berlin, Germany. 
The Queen's Gambit story originated from author Walter Tevis' 1983 novel of the same name. The Netflix series follows the general plot of the novel, showcasing the reality of adoption, coming of age, feminism, drug addiction and alcoholism.  Throughout the series, viewers watch as Beth Harmon blossoms from a quiet, reserved chess player to a spontaneous, high-ranking chess prodigy, battling drug addiction in the process. At just 18 years old, Harmon quickly rose to the top of the chess world and began her journey to the U.S. Open in Las Vegas, Nevada. Along the way to fame, Harmon comes in contact with a tight-knit group of savvy chess players who show her some obscure tips and tricks. Benny Watts (Thomas Brodie-Sangster) and Harry Beltik (Harry Melling) were two of Harmon's greatest teachers and lifelong friends, teaching her tactical strategies and helping her cope with addiction.
As Harmon becomes a worldwide sensation, she also faces difficulties from her growing tranquilizer addiction. Originally obtained from her orphanage, the tranquilizer pills give Harmon another sense of perception, enabling her to visualie the chessboard in a tactical way, which she uses to her advantage.  The series overall is bittersweet, leaving viewers with a bag of mixed emotions. Since its release, the series has received praise from professional chess players because of its accurate depiction of the stress of the game.  In an interview with The Hollywood Reporter, Taylor-Joy shared her unique acting experience and journey to learning about the intense nature of chess. "That's what was awesome about getting to do this. I got invited into a very secret world that's super cool and really interesting. I ended up tricking myself into believing I was a really good chess player," Taylor-Joy said.  Newly added from Chess.Com, viewers can experience the chess prodigy at home by playing against a virtual Beth Harmon at any stage in her chess career. Once the stage is chosen, players are able to play against Harmon, and the game will give players constructive feedback and criticism. 
Leave a Comment
About the Contributor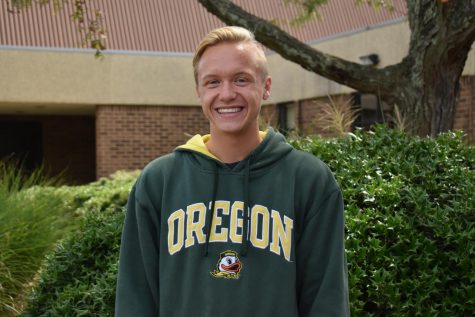 Kyle Reeder, Associate Editor
Kyle Reeder, Associate Editor, Class of 2023