In Wonder illustrates a portrait of a humble rise to fame
Film Review of Shawn Mendes: In Wonder
On November 23, 2020, the popular Netflix platform added yet another enthralling installment to entice its users: a piece documenting the life of singer-songwriter Shawn Mendes. The film humanizes the Pickering, Canada, native, authentically chronicling moments from the star's upbringing all the way through his latest year-long world tour in 2019, allowing fans to catch a glimpse into the life of one of today's biggest names in the music industry. Bearing his heart for all to witness, In Wonder details a story of success coupled with the inevitable hardships that accompany fame, putting Mendes's vulnerabilities on display. 
Over the years, many documentaries regarding the seemingly impenetrable lives of Hollywood's most recognizable figures have given fans a raw peek behind the curtain that often goes unseen, an element that undeniably holds true in the documentary, In Wonder. As a young twenty-two year old, Mendes catapulted into the public eye at rapid speed, first gaining momentum on Vine, a popular social media platform. Routinely uploading a wide range of cover songs, the young teen, at the time, quickly gained traction as he established a growing fan-base. What started as an after school hobby from within the four walls of his innocent childhood bedroom evolved into an unstoppable force in the world of music, as a number of his beloved hits have reached the top of the charts worldwide.
Throughout the documentary's entirety, Mendes opens up about his ongoing struggles with mental health, a result from the looming pressures and constant attention that confront him when living under a public microscope. Although positive on the exterior, In Wonder reveals the toll that a life of a popstar inevitably takes on an individual. Towards the end of the film, cameras unveil an emotional Mendes put on complete vocal rest, forcing him to cancel one of his sold out shows despite eagerly awaiting fans lined up outside of the stadium, showcasing the harsh physical and mental demands accompanying fame. Mendes has found himself at odds with his own anxiety on many occasions, often causing him to ponder, "If I tell the world that I'm just a normal human, are they going to stop coming to the shows?" Yet, in a face-to-face interview towards the end of the film, he informs viewers that he has gradually come to conceptualize this unsettling feeling as more of "companion I have to live with and less of an enemy I am trying to resist," noting his growth as an individual.
However, the documentary focuses itself on Mendes's journey as whole, incorporating home videos and adolescent anecdotes regarding his fondest memories prior to reaching success. "This is a story about a guy growing up, not the story of a pop star," mentions director Grant Singer, who breathlessly encapsulates the bigger picture, revealing that those in Mendes's life who have played an important role in his upbringing continue to keep him grounded. Making a point to intimately highlight the the singer's daily life, Singer shot the film "as if you're beside Shawn, over his shoulder, seeing the world from his vantage point, through his experience in order to immerse the viewer, but also to become closer to him, in an effort to see him more honestly" to follow Mendes on his own path to self-discovery, all the while featuring his newest single "Wonder" as the backing soundtrack of the whole film.
Giving audiences a first-hand look into the artist's personal life, Mendes also shares moments from his private relationship with girlfriend Camila Cabello, a fellow singer-songwriter and former member of Fifth Harmony. The two first met while performing as opening acts for Austin Mahone's tour in 2014, with their close friendship turning romantic in 2019. Crediting her as the subject for a majority of his songs, Mendes gets candid about his feelings towards Cabello. Having lived parallel lives and undergone similar experiences, Cabello has come to serve as a vital support system for Mendes both on and off the road, a connection beautifully captured throughout the documentary.
In addition to In Wonder, a full length film of Shawn Mendes: Live in Concert made a surprise appearance on November 25, 2020, giving adoring fans a second opportunity to witness Mendes pour his heart out on stage. By giving context to Mendes's acclaimed performances, In Wonder offers a unique perspective to the young singer-songwriter's determination and passion for music, providing audiences of all ages with a new found sense of inspiration.  
About the Contributor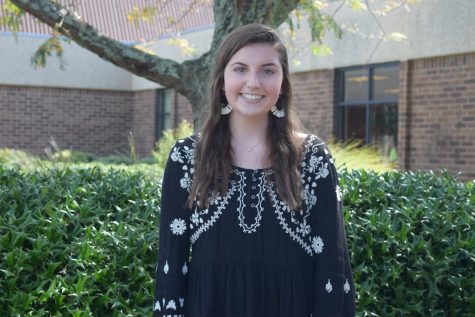 Bridget Tracy, Copy Editor
Bridget Tracy, Copy Editor, Class of 2022