Two Compadres offers an authentic spin on Mexican cuisine
Restaurant Review: Two Compadres Taqueria Bar & Grill
In July, Two Compadres Taqueria Bar & Grill took the place of a crowd favorite, Cafe Caturra. Cafe Caturra, which closed in 2018, provided a trendy, but comforting, atmosphere for Midlothian locals to gather for a quick bite or catch up with friends; since its departure, 13830 Village Place Drive sat empty, just waiting for the perfect restaurant to fill its space. When veteran restaurateur Eduardo "Lalo" Macias discovered the location, he partnered with Jose De La Rosa, a close friend, to create a traditional spin on Mexican food in Two Compadres. 
When patrons enter Two Compadres, friendly employees, chic decor, and the comforting smell of homemade tortillas greet them. Catering to both younger and older generations, Macias diversified the traditional American version of Mexican food to include seafood and steak, alongside authentic tacos. On the menu, patrons find everything from carne asada to taquitos de papa to Compadre's Specials, which offer more complex variations. Those requiring allergen accommodations or dietary restrictions can meet their needs while enjoying a traditional Mexican meal, as Gluten-Free, Vegetarian, and Dairy-Free options are available. Favorites include: create-your-own combination dinner, Quesadilla Lalo, and Sopa del Mar, all of which encompass a wide variety of proteins, vegetables, spices, and grains.
In keeping with mainstream Mexican restaurants, Two Compadres offers complimentary tortilla chips and salsa as an appetizer, but unlike many other venues, they make their chips in-house, creating a fresh and comforting spin on a fan-favorite. Adding to the authentic atmosphere, the traditional decor, offset by contemporary lighting, gives patrons an opportunity to feel rich Hispanic culture in a unique way. Furthermore, a patio with outdoor seating, a private party room, a full bar with TVs, and opportunities for live music affords patrons an array of experiences while still maintaining access to the culinary delights that Two Compadres offers.
Though still taking off, Two Compadres Taqueria Bar & Grill will certainly continue to grow its following, as its authentic Mexican cuisine, coupled with extraordinary customer service and an accessible location, draws both locals and visitors alike.
For more information on the founding of Two Compadres, click here.
For the Two Compadres Taqueria Bar & Grill menu, click here.
About the Contributor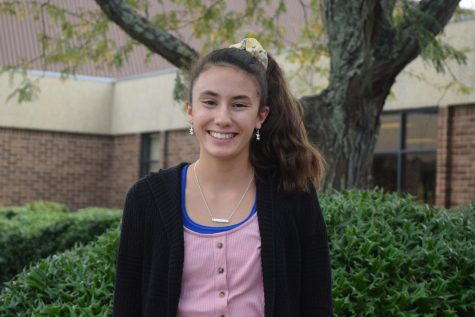 Katherine Krievs, Editor-in-Chief
Katherine Krievs, Editor-in Chief, Class of 2021