Airbnb offers llama hiking experience in Charlottesville
Experience Review: Llama Hike
A magical, secluded gravel road just outside of Charlottesville, Virginia, hides a sprawling 95 acre farm that houses over 44 llamas. These llamas live in Lower Sherwood, a flourishing, noteworthy llama farm in Albemarle County. One of the most notable excursions that Lower Sherwood offers visitors is its incredible llama hike. The experience includes a 2.5 mile walk through immense forests, filled with nature, stunning views of vast fields, and a glimpse of the Blue Ridge Mountains. Before the walk, guests pick the llama of their choice to escort them during the hike.  In their capacity, Lower Sherwood houses over 40 llamas, which have either been born on the property or are retired show llamas, which formerly competed in state or national races.
On the trail, guests can choose an advanced path, which includes jumping over creeks, walking through watery patches, and hiking uphill, or a moderate course, which allows them to walk easily through mesmerizing hay fields and enchanting forests.  During the course of the hike, the guide provides guests with a lengthy history of the llamas and tips to best pet and approach them. Visitors are encouraged to bring their cameras, as they most likely will want to commemorate every moment with their new hiking buddy.  After the hike, visitors have a fresh perspective on llamas and their history.
Through the new addition of Airbnb Experience through the Airbnb app, customers can purchase llama hike tickets from their Airbnb host, Paige and her co-host, Steven.  Tickets for the llama hike, also available in bulk depending on the number of people in the group, cost $50 per person.  Although pricey, the llama hiking experience is definitely worth the money, as "it's not every day you get to hike with llamas," explains Steven.  The experience also offers customers a stress-free, tranquil outing full of lush scenery, fresh air, and a loving llama companion with love and support. Not only does Lower Sherwood offer incredible nature hikes, but also a stay-away camping option for those looking to spend more time at the site.  Using a newly developed system called HipCamp, Lower Sherwood allows campers to pitch their tents on hay fields and camp in complete serenity. For adventure seekers interested in a one-of-a-kind outdoor experience, llama hiking provides an incredible opportunity.
For more information, visit the Llama Hiking Airbnb listing.
Leave a Comment
About the Contributor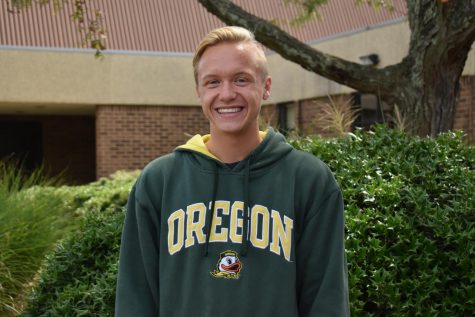 Kyle Reeder, Associate Editor
Kyle Reeder, Associate Editor, Class of 2023