Students adjust to new virtual environment
Students react to the start of the 2020 virtual school year.
On September 8, 2020, students returned to school, but this time instead of taking to the halls of Midlothian High, they logged on to a brand new virtual setting. Despite a few technical issues in the morning, Chesterfield County Public Schools kicked off the year with a smooth start, as students across the county logged in to their classes and meet with their teachers. Using the platforms Google Meet to hold class and Canvas to share information and assignments, both students and teachers had to adapt to a new online lifestyle in the wake of the Coronavirus epidemic. 
During the typical day of virtual school, students log in to their first period class at 8:30 a.m. From there, they progress through their four even or odd periods, including Midlo Morning, where students receive extra help and work time. To allow for a smooth transition, CCPS schedules ten minute breaks between each period. Each class is structured with synchronous time for lectures and class discussions, followed by asynchronous work time. While students work on their own, the respective class's teacher stays on the call and assists any students in need of help. 
Teachers at Midlothian High School each worked to adapt their lessons to fit the virtual teaching style. Personal Finance teacher Mrs. Monica Van Arsdale elaborates on her experience with teaching online, stating, "Some of the things that I've never had to do before include document cameras, dual screens, and going back and forth between instruction and answering questions in the comment section. There was definitely a learning curve in the beginning. All that said, I think virtual teaching is going well, and I've now got my rhythm." While adapting to this style of instruction, some teachers find it difficult to create student-teacher relationships, but they do find that in this new environment students must take initiative to effectively communicate as well as write out their explanations. Van Arsdale hopes "this practice will create a generation of thorough and thoughtful communication."
Now weeks into this new routine, the students of Midlothian High School hold mixed feelings about the impacts of online learning, as they adjust to this new normal. Midlo teachers offer additional support through Midlo Morning and office hours, but some students feel that this is not enough. Senior Riley Martin shares, "As nice as it is to wake up later and have more freedom during the day, I prefer in-person school. It's easier to ask questions and create an overall better learning environment in person. It is difficult to focus at home during virtual learning, and I am often responsible for teaching myself in classes."
Oftentimes in a school building, the faculty ensures that students stay on task by eliminating distractions such as cell phones. Now at home, students remain responsible for making sure they stay focused and complete their assignments. For many, this time management serves as a life skill, as students prepare for independence after high school. 
Some self-sufficient students enjoy the productivity of getting work done from the comfort of their own homes. Sophomore Kenzie Moore shares, "I like online school because during asynchronous time, I can get more work done, whereas at school, I would have to wait until I get home to do it." Junior Chloe Burke agrees, stating, "I enjoy how accessible everything is and how we have much more free time to focus on assignments." Despite this freedom, Burke acknowledges that "it has been harder to grasp concepts" through her time in online school. Although she misses her classmates, senior Lily Anderson shares, "I'm actually enjoying online school! I like having all of the breaks, and I can move at my own pace with assignments." 
With the costs and benefits of virtual learning comes the pressing concern of mental health, prevalent since the start of isolation during quarantine back in March 2020. Some students enjoy staying at home, as it eases the anxiety that comes with constant interaction and pressure every day, but some students feel isolated from peers and miss the stimulation of everyday social activities. For many, virtual school feels exhausting without the interactions they are used to, and many feel worn out after staring at a screen for hours at a time. Senior Jordan Cibellis captures this feeling, sharing, "It's very hard to sit at my desk all day, and then about two hours after school doing homework. There's only so much we can do to get outdoors or spend time with family in between classes. I also know that there are many other students who feel the same way, and I think this has affected mental health for high school students greatly." Junior Zack Phillips agrees that with the inability to see friends, "learning gets a lot harder." 
Project Restart, the plan to phase students back into school, began on September 29, 2020, as Cohort 1, which includes students with disabilities determined by Individualized Education Plans, entered into the Hybrid Model. Students in grades 6-12, known as Cohort 4, will return to the halls of Midlo on the earliest date of November 9, 2020. CCPS offered the option for students to opt-out of the hybrid model and stay virtual through CCPS Online, giving students the opportunity to choose the learning style that best fits their needs. No matter the option, students will once again adapt to unprecedented circumstances through these new learning models. 
Read more about Chesterfield County's reopening plan here.
About the Writer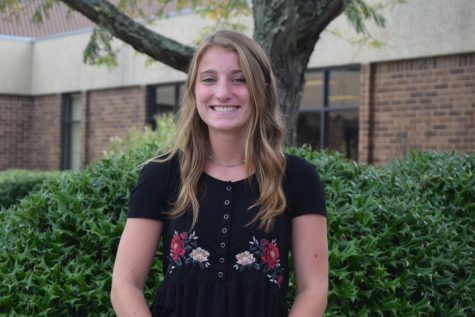 Maddie Burke, Editor-in-Chief
Maddie Burke, Editor-in-Chief, Class of 2021