Revisit the Classic Movie, Grease
The classic movie Grease, directed by Randal Kleiser, currently made a comeback, as it is now trending on Netflix. Set in the 1950's and filmed in 1978, Grease is a romantic musical based on the successful 1971 musical. Known by many as one of the biggest musical films of the twentieth century, Grease features famous songs composed by Jim Jacobs, Warren Casey, and Michael Gibson. Some familiar, catchy tunes from the movie include: Summer Nights,You're the One That I Want, and Greased Lightning. Following its success, Grease gained $396 million worldwide and earned a rating of 75% on the Rotten Tomatoes "Tomatometer". 
The movie stars main character Sandy Olsson (Olivia Newton-John), who has a summer fling with a sweet boy that she met at the beach, named Danny Zuko (John Travolta). Unfortunately, when summer comes to an end, Sandy has to return to her home to Australia, but at the last minute, she ends up going to Rydell High School. However, neither Sandy nor Danny have any idea that the other goes to the same school. The school contains numerous stereotypes, including the 'cool kids' known as the Pink Ladies and the T-Birds. While the main story line revolves around Danny's attempt to win Sandy back, there are other love stories and teenage dilemmas woven into the film. One features Rizzo (Stockard Channing), the leader of the Pink Ladies, and her on-again, off-again boyfriend Kenickie Murdoch (Jeff Conaway) as they work to stabilize their relationship after a rough patch. Sandy quickly becomes friends with Rizzo and The Pink Ladies despite their teases of her being a 'good girl', and she faces peer pressure from the group as she struggles internally over her feelings for Danny. 
Freshman Mary Carson remarks that her favorite part of the movie is "Sandy's fashion sense, especially her outfit at the end of the movie." The original Grease proved such a success that four years later, the sequel, Grease 2, came out, with a modern riveting plot and both original and new actors. "Grease is my favorite movie, and I really love all of the songs in it," states senior Lara Ballout. Grease demonstrates love and breaking stereotypes, along with an entertaining blend of comedy and music. 
About the Contributor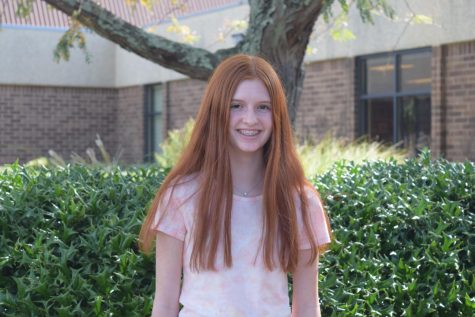 Quinn Downing, Midlo Scoop Staff
Quinn Downing, Class of 2023