Girls Volleyball emerges victorious on senior night
2019 Girls Volleyball Senior Night
On Thursday, October 24, 2019, the Girls Varsity Volleyball team celebrated the Class of 2020 seniors on Senior Night. The five key seniors include: Olivia Ibanez, Alison Vonderharr, Mary Courtney Hettinger, Mackenzie Sherrod, and Kelesy Ward. 
Decorated posters of each senior lined the hallway upon entering the gym. At 6:45 pm, each player entered the court, escorted by her parents. Five juniors said a few words about a specific senior. Coach Sherman Chung made closing remarks about how each senior has impacted the team in one way or another.
After a short warm up, the Monacan Chiefs and the Midlothian Trojans took to the court. The last time these teams faced off, Midlo took the win. Determined to secure another win, this time for the seniors, Midlo junior Katie Arrington executed a strong serve signifying the start of the first set. The Lady Trojans took the lead during this set until the Chiefs eventually tied the score 10-10. A block by middle hitter Morgan Myers brought the Trojans to a one point lead. Feeling the pressure, the girls worked harder and moved quicker to make returns and secure points. With a close score of 24-23, outside hitter Ibanez quickly got under the ball, sending it to the other side. The Chiefs, unprepared for this play, were unable to return the ball, which resulted in a win of the first set by the Trojans.
The high energy prevailed throughout the second set with the Lady Trojans dominating this section with a final score of 25-6. The Chiefs, now fired up, controlled the majority of the third set. Long rallies and difficult balls proved the downfall of the Trojans. Midlo followed closely behind but failed to pull ahead, and the Chiefs emerged as victors, with a close score of 25-21. This loss motivated the ladies to win the fourth set and ultimately the game. Junior Diana Wesolosky obtained an ace for Midlo, and the Chiefs were unable to keep up with the fast-paced game. Communication and pure skill proved a driving force that led to the Lady Trojans to triumph. 
The emotional night came to a close a final score of 3-1. The girls erupted into cheers, as the buzzer rang through the gym, signifying the end of the game. Junior Ella Stroud states, "I've played with them for so long, so I am going to miss them so much. It's going to be hard to play without them next year." Ward, who has only been part of the team for a year, reflects on her time at Midlo by stating, "The best part of being on the team was all the memories and friends I've made." On Tuesday, October 29, 2019, the Midlo Girls Volleyball will travel to Douglas Freeman High.
About the Contributor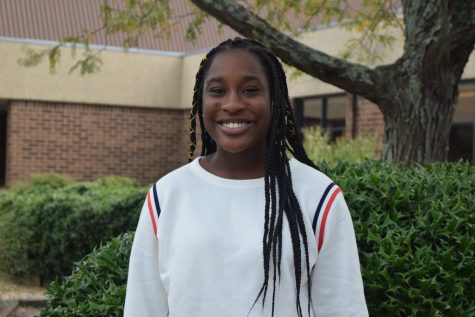 Zinzi Symister, Midlo Scoop Staff
Zinzi Symister, Class of 2021