Kings Dominion offers new spine-chilling attractions
Kings Dominion Halloween Haunt 2019
On September 21, 2019, at 7:00 pm, Halloween Haunt at Kings Dominion opened to visitors who dared to walk through the many corn mazes and haunted houses that greet them past the entrance. The first Halloween Haunt, which dates back to 2001, was originally named Fear Fest, but in 2007, the park renamed  the event Halloween Haunt. Every year, Kings Dominion puts on a main event at the bandstand near the Eiffel Tower, and this year's participants receive invitations from her royal highness Queen Majesty and her court. Nightly, they celebrate the beheadings of the Overlord and his followers with song and dance, including the songs: I've Put a Spell on You, Ballroom Blitz, and Heads Will Roll, from the show Blood Reign.
Following Blood Reign, thrill-seekers fan out across the park heading to the haunted houses and corn mazes scattered about. In Planet Snoopy, the things that go bump in the night hide and wait for victims to walk by in Blackout. Voodoo fans can stroll through the swamps, rumored to have once run red with blood in Blood on the Bayou behind the Wind Seeker. Dating back to the 1950s, rumors of the disappearance at a wedding at Darkside Manor haunted the minds of locals. The participants join paranormal investigators as they decide the truth of the rumors in Condemned at the Action Theatre. Past rows of decaying corn, deadly farmers and haunted scarecrows wander the rows looking to get rid of pests in Cornstalkers. If scarecrows, voodoo, and nightmares are not scary enough, participants travel to the Flight of Fear for a night in the penitentiary, where they advise visitors to stay on the marked paths, or they might find themselves the next victim of this eternal nightmare in Lockdown.
Aside from the many haunted house and corn mazes, Haunt offers countless scare zones, where people dress up in horrifying costumes to terrify riders. In Cleaver Brother's Carnival, clowns and other freaky creatures infiltrate Candy Apple Grove. The once peaceful spirits living in the cemetery drag themselves from their slumber and walk the earth again in the scare zone, Necropolis. Thrillseekers looking for a scare can travel to The Yard in Safari Village, where the guards of Doswell State Penitentiary still patrol the yard, always ready to enforce the warden's rule of terror. Kings Dominion has added two new scare zones this year: the Pumpkin Eater, located in the tunnel, featuring a pumpkin farmer who hides his victims inside his pumpkins, while the undead society invites riders to crash the annual Royal Masquerade Ball in Masquerade. Mix and mingle with the height of the undead high society, but beware: sometimes the mask exists for a reason.
It's late October; you know it's here.
You feel the cold and know the fear.
Visit Kings Dominion and join the Halloween cheer!
About the Contributor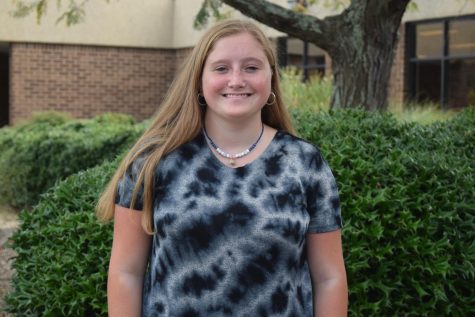 Emily Gundel, Midlo Scoop Staff
Emily Gundel, Class of 2021